Transportation & Export
main oil export pipelines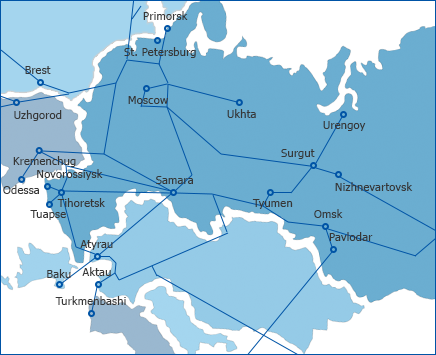 RPI's expertise
RPI is a well-recognized expert in providing research and consulting services in the field of oil, gas and petroleum products transportation.
Every year, RPI holds a conference on pipeline transport, publishes a range of analytical reports. Project portfolio includes such areas of research as forecasting of pipeline systems development, analysis of pipeline systems competitiveness, comparison of different ways of raw materials supply in viability and many others.
Accumulated experience of completed projects, the company's own current databases and unique research methods allow RPI to meet various complex challenges within research and consulting projects in the field oil, gas and petroleum products transportation.
Sample projects
Russian oil trading company

Content — Analysis of economic and logistics options for supplying petroleum products and LPG to target markets through an existing terminal situated in the Black Sea basin. The study included an assessment of alternative supply options, target markets and calculation of netbacks.

Purpose — Analytical support during the negotiating process and assessment of takeover options.
International owner and operator of a fleet of oil rail tank cars

Content — A study of the Russian rail shipment market for oil cargo, including transit from the CIS countries. The final report included an overview of the Russian market for rail delivery of petroleum products, an analysis of the competitive environment, an evaluation of current risks and recommendations for crafting a market entry strategy.

Purpose — Analytical support used by the client to frame a mid-term strategy for market entry.
ORDER RESEARCH
Does your company need to order a bespoke research?
Fill in the form below – and RPI specialists will contact you shortly for details.

* By sending this form you agree with the Privacy policy and Processing of your personal data.