Over the past 20 years, RPI has carried out hundreds of studies on all major segments of the oil and gas industry of Russia, CIS and Eastern Europe.

RPI specialists are permanently in close connect with the industry and monitor its developments closely to provide best-in-class analytics and information support for industry players.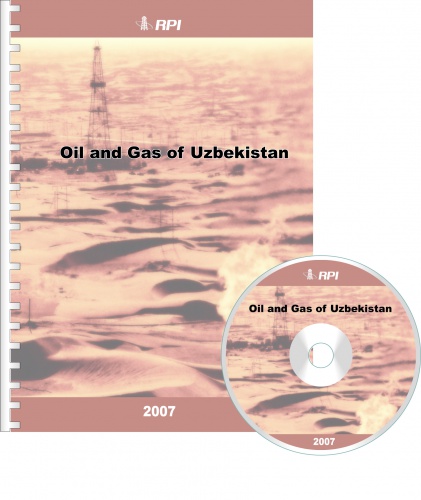 Oil and Gas of Uzbekistan
is the most comprehensive analysis of the industry that dwells in detail on:
current status of the oil and gas industry in the country
state strategy on foreign investors' access to hydrocarbon reserves and further development of the oil and gas industry
activities of international players in Uzbekistan's upstream and downstream sectors
projects carried out jointly by Uzbekneftegaz holding and international partners
Oil and Gas of Uzbekistan
provides forecasts on oil and gas production, as well as outlook for imports of crude and exports of natural gas from the country to 2020.
Oil and Gas of Uzbekistan
is an important source of analysis for:
oil and gas operators
contractors and equipment suppliers
oilfield service providers
engineering and construction companies
transportation companies
traders
investment and banking institutions
consultancies and financial advisors
Introduction

Chapter 1. Uzbekistan Country Review
1.1. Uzbekistan in brief
1.2. Geography
1.3. Economy
1.4. Population
1.5. Political Overview
     1.5.1. Political system
          Government
          Oliy Majlis (Parliament)
     1.5.2. Uzbekistan's administrative division
1.6. Conclusions

Chapter 2. Current Investment Climate in Uzbekistan's Petroleum Industry
2.1. Establishing a system for Uzbekistan's interaction with foreign investors
2.2. Legal framework
2.3. Taxation of the Uzbek petroleum industry
2.4. Conclusions

Chapter 3. State Objectives in Development of Uzbekistan's Oil and Gas Industry

Conclusions

Chapter 4. Oil and Gas Complex of Uzbekistan
4.1. Resource base of the oil and gas industry
4.2. Oil and natural gas production in Uzbekistan
4.3. Oil and gas transportation infrastructure in the Republic of Uzbekistan
4.4. Processing of oil, condensate and natural gas
4.5. Oil, oil products and natural gas consumption in Uzbekistan
4.6. Oil and natural gas export/import
4.7. Conclusions

Chapter 5. Current Status and Growth Prospects of National Holding Company Uzbekneftegaz
5.1. Shareholders, governance structure, strategic objectives, financial performance
5.2. Joint Stock Company Uzgeoburneftegaz
5.3. Joint Stock Company Uzneftegazdobycha
5.4. Joint Stock Company Uztransgaz
5.5. Joint Stock Company Uznefteprodukt
5.6. Joint Stock Company Uzneftegazstroyinvest
5.7. Joint Stock Company Uzneftegazmash
5.8. Conclusions

Chapter 6. Foreign Companies in Uzbekistan's Oil and Gas Sector
6.1. Russia
     6.1.1. OAO Gazprom
     6.1.2. OAO LUKoil
     6.1.3 Soyuzneftegaz-UzPEK
     6.1.4.Stroytransgaz Oil
     6.1.5. Rosneft
6.2. European companies
     6.2.1. ZEROMAX GMBH
     6.2.2. Gas Project Development Central Asia AG (GPD)
     6.2.3. ROSEHILL ENERGY
     6.2.4. Eriell Corporation
6.3. China
     6.3.1. CNPC
     6.3.2. Sinopec
     6.3.3. TUHA
     6.3.4. CPTDC
     6.3.5. Funding of Uzbekneftegaz by Chinese companies
6.4. South Korea
     6.4.1. KOGAS
     6.4.2. KNOC
6.5. Malaysia
     6.5.1. JV Uzmaloil
     6.5.2. Petronas
6.6. India
     6.6.1. Gail Limited
6.7. Singapore
     6.7.1. Temasek Holdings
     6.7.2. Oil tech exploration and production
6.8. Aral Sea development consortium
6.9. Conclusions

Chapter 7. Republic of Uzbekistan's Investment Blocks Under Government Control
7.1. Ustiurt petroleum region
     7.1.1. Surgilsky investment block
     7.1.2.East Urginsky investment block
     7.1.3. Koskudyksky investment block
     7.1.4. Ashibulaksky investment block
     7.1.5.Kossorsky investment block
7.2. Bukhara-Khiva petroleum region
     7.2.1. Beshkent-Alyaudinsky investment block
     7.2.2. Kashkadarya-Azlyartepinsky investment block
     7.2.3. Yangikazgansky investment block
     7.2.4. Karakyrsky investment block
     7.2.5.East Kultaksky investment block
7.3. Surkhandarya petroleum district
     7.3.1. Koshtarsky investment block
7.4. Conclusions

Conclusion

Attachment 1 On Measures to Improve Operations of National Holding Company Uzbekneftegaz

Attachment 2 On Measures to Improve the Issuance Procedure of Licenses to Use Subsoil Blocks

Supplement to the Decree No. PP-649

Attachment 3 Contacts at companies operating in Uzbekistan's oil and gas sector and their chief executives

Attachment 4 Oil and Gas Provinces of Uzbekistan
Chart 1.1. Goods turnover dynamics (US$ million)
Chart 1.2. Historical consumption of foreign investment under the Investment Program (US$ million)Chart 1.3. Historical contribution of the oil and gas industry to industrial production of the Republic of Uzbekistan (%)
Chart 1.4. Incremental natural gas export revenues in incremental GDP
Chart 2.1. Consummated foreign investments during implementation of petroleum sector projects included  in the State Investment Program of Uzbekistan (US$ million)
Chart 2.2. Uzbekistan's tax rates from 2001 to 2007 (%)
Chart 3.1. State Objectives in Development of Uzbekistan's Oil and Gas Industry
Chart 4.1. Area of prospective oil- and gas-bearing regions (square kilometers)
Chart 4.2. Level of development of Uzbekistan's oil and gas regions
Chart 4.3. Dynamics of proven oil reserves in Uzbekistan (million tons)
Chart 4.4. Dynamics of proven gas reserves in Uzbekistan (million cubic meters)
Chart 4.5. Delineation of forecast resources of natural gas in Uzbekistan
Chart 4.6. Scope of exploration drilling in the Republic of Uzbekistan since 2000 to 2012 (thousand meters)
Chart 4.7. Scope of 2D seismic survey between 2000 and 2012 (linear kilometers)
Chart 4.8. Allocation of investment blocks to regions
Chart 4.9. Preparation of target sites using geophysical methods in the territory of Uzbekistan
Chart 4.10. Oil import growth rates in Uzbekistan since 2003 to 2007 (million tons)
Chart 4.11. Oil and gas-condensate production in Uzbekistan since 1995 to 2006 (million tons)
Chart 4.12. Correlation between oil and gas-condensate production in 2006 (million tons)
Chart 4.13. Production of commercial gas in Uzbekistan between 1996 and 2006 (billion cubic meters)
Chart 4.14. Commissioning schedule for gas pipelines (kilometers)
Chart 4.15. Quantity of oil products at the Fergana oil refinery broken down by types
Chart 4.16. Output of oil products by the Fergana and Bukhara oil refineries in 2006 within Uznefteprodukt
Chart 4.17. Oil refining, production of diesel fuel, gasoline and bitumen by Dzharkurganneftepererabotka in 2005 and 2006 (thousand tons)
Chart 4.18. Output of oil products in Uzbekistan from 2000 to 2006 (thousand tons)
Chart 4.19. Gas processing in 2006 broken down by gas processing plants (billion cubic meters)
Chart 4.20. Composition of low-sulphur and high-sulphur gas supplied to the Mubarek plant
Chart 4.21. Production capacities of the Shurtan gas chemical complex (million tons)
Chart 4.22. Gas processing and marketable gas output in 2002 to 2006 (million cubic meters)
Chart 4.23. Output of marketable products by the Shurtan gas chemical complex (condensate, polyethylene, liquefied gas) in 2002 to 2006 (thousand tons)
Chart 4.24. Shurtanneftegaz capacities for commercial output in 2006 (thousand tons)
Chart. 4.25. Primary energy carriers consumption balance in 2006 in Uzbekistan
Chart 4.26. Development of oil consumption in Uzbekistan from 2000 to 2006 (million tons)
Chart 4.27. Gas consumption in Uzbekistan from 2000 to 2006 (billion cubic meters)
Chart 4.28. Natural gas consumption in 2006 broken down by categories of consumers
Chart 4.29. Oil export from Uzbekistan in 1995 to 2002 (million tons)
Chart 4.30. Export of natural gas from Uzbekistan in 1995 to 2006 (billion cubic meters)
Chart 4.31. Natural gas import structure for Uzbekistan (billion cubic meters)
Chart 5.1. National Holding Company Uzbekneftegaz ownership structure
Chart 5.2. NHC Uzbekneftegaz organizational governance structure
Chart 5.3. Companies within Uzgeoburneftegaz
Chart 5.4. Neft Va Gaz Kuduklarini Sinash Shareholders
Chart 5.5. Companies within Uzneftegazdobycha
Chart 5.6. Investments in gas projects by 2010 and planned output
Chart 5.7. Production of oil and gas by Andizhanneft
Chart 5.8. Companies within Uztransgaz
Chart 5.9. Transit charges for pumping gas through the Republic of Uzbekistan
Chart 5.10. Uznefteprodukt organizational structure
Chart 5.11. Joint Stock Company Uzneftegazstroyinvest organizational structure
Chart 5.12. Shareholders of Kashkadaryaneftegazpromstroy ahead of 2007-2008 privatization
Chart 5.13. AK Uzneftegazmash organizational structure
Chart 5.14. Uzbekneftegaz 2006 revenue from exports sales (%)
Chart 6.1. Gas production at the Shakhpakhty field (Gazprom's share) in the period to 2010 (million cubic meters)
Chart 6.2. The dynamic of an increase in LUKoil's hydrocarbon reserves in the Kandym group of fields in 2004-2006 according to international standards
Chart 6.3. Investments in the PSA-based Kandym-Khauzak-Shady-Kungrad project (US$ million)Chart 6.4. Evaluation of the feasibility of gas production by LUKoil on the Khauzak - Shady blocks in the period to 2010
Chart 6.5. Gas production potential of the Kandym field before it reaches a plateau rate
Chart 6.6. UzPEK investments in 2001-2004 ($ million)
Chart 6.7. Hydrocarbons production by Kokdumalak Gas JV in 2005 and 2006 and forecast for 2007
Chart 6.8. Product sharing under the PSA
Chart 6.9. Investment in North Urtabulak development under Baker Hughes (US$ million) VSP
Table 1.1. Key macroeconomic indicators for the Republic of Uzbekistan
Table 2.1. Production sharing agreements executed with foreign investors
Table 2.2. Current tax rates
Table 4.1. Comparative figures of reserves and extraction volumes of liquid hydrocarbons and natural gas in Uzbekistan, Russia, Kazakhstan, Turkmenistan and Azerbaijan
Table 4.2. Parameters of the most important gas pipelines in Uzbekistan
Table 4.3. Price growth for gas delivered from Uzbekistan to other countries in 2004 to 2006 (US$ million)
Table 5.1. Uzbekneftegaz key financial performance indicators (US$ million)
Table 5.2. Drilling programs that have led to new discoveries
Table 5.3. Uzneftegazdobycha's ownership shares in subsidiaries as of mid-2007
Table 5.4. Uzgeoburneftegazdobycha's operating performance before 2005 and Uzneftegazdobycha's operating performance in 2006 (US$ million)
Table 5.5. Andizhanneft financial performance (US$ million)
Table 5.6. Specifications of the Uzbek gas pipeline system
Table 5.7. Uznefteprodukt financial performance data (US$ million)
Table 6.1. Key indicators of Gazprom's five Uzbek blocks
Table 6.2. Stroytransgaz Oil's potential blocks in Uzbekistan
Table 6.3. Services provided by Eriell Corporation s.r.o. in Uzbekistan
Map 1.1 Map of Uzbekistan
Map 1.2. Administrative division of the Republic of Uzbekistan
Map 3.1. Uzbekistan and potential oil and gas consumption areas in Eurasia
Map 4.1. Oil and gas provinces of Uzbekistan
Map 4.2. Fields in the Bukhara-Khiva region
Map 4.3. Ustiurt region
Map 4.4. Fields in the Fergana valley
Map 4.5. Infrastructure of oil supplies from Kazakhstan to Bukhara and Tashkent (Pakhta)
Map 4.6. Gas-transportation system of Uzbekistan
Map 6.1. Shakhpakhty field
Map 6.2. Gazprom's new license blocks
Map 6.3. Fields of the Kandym group, at which LUKoil operates
Map 6.4. Gissarsky investment block
Map 6.5. Akdzharsky block offered to Stroytransgaz Oil
Map 6.6. Chinabadsky block offered to Rosneft
Map 6.6. Fields operated by Gissarneftegaz
Map 6.7. Rosehill Energy operational area
Map 6.8. CNPC investment blocks in Bukhara-Khiva region
Map 6.9. CNPC investment blocks in Ustiurt region
Map 6.10. Subsoil block discussed with Sinopec
Map 6.11. KNOC operations in Fergana region
Map 6.12. Karaktai field
Map 6.13. Petronas investment blocks
Map 6.15. East Surkhansky block
Map 7.1. Surgilsky investment block
Map 7.2. East Urginsky investment block
Map 7.3. Kossorsky investment block
Map 7.4. Beshkent-Alyaudinsky investment block
Map 7.5. Kashkadarya-Azlyartepinsky investment block
Map 7.6. Yangikazgansky investment block
Map 7.7. Karakyrsky investment block
Map 7.8. East Kultaksky investment block
Map 7.9. Koshtarsky investment block