Over the past 20 years, RPI has carried out hundreds of studies on all major segments of the oil and gas industry of Russia, CIS and Eastern Europe.

RPI specialists are permanently in close connect with the industry and monitor its developments closely to provide best-in-class analytics and information support for industry players.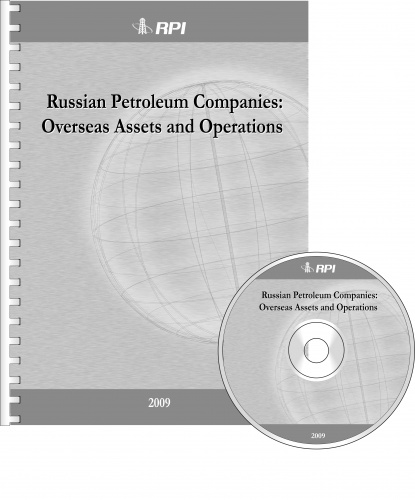 Russian Petroleum Companies: Overseas Operations
is designed to provide a comprehensive overview of the activities pursued internationally by Russian oil companies.

Russian Petroleum Companies: Overseas Operations
covers the international assets, projects, acquisition attempts and directions of investment opportunity development for all Russian petroleum companies with known international activities.
Industry segments include:
upstream
transportation
refining and retail
oil services, where relevant
Through examination of particular projects and plans for cooperation, the report takes a look at cross-regional alliances of Russian companies with international players, as well as at the role of governments in facilitating access to oil and gas opportunities worldwide.
Russia's biggest gas producer – Gazprom – is not included in the study. Gazprom's international activities and profiles of overseas assets are analyzed in detail in another study by RPI – Russian Gas on Global Markets: Potential, Strategies and Outlook
Chapter 1. Overview of International Operations of Russian Petroleum Companies

Chapter 2. Profiles: International Activities and Assets
 
Alrosa
   Upstream  
         Africa
         Gazprom neft
   Downstream  
         Serbia
         Italy
   Acquisition targets
Itera
   Upstream
         South Asia  
         USA
   Downstream
         South Asia
   Assets divestiture
LUKOIL
   Upstream  
         Central Asia/Caspian basin
         Middle East and North Africa
         West Africa
         Latin America
   Downstream  
         Europe
   Retail
         Europe
         USA
   Acquisition targets
Novatek
   Upstream
         North Africa
Rosneft
   Upstream
         Central Asia
         North Africa
   Downstream
         China
   Midstream
         Burgas-Alexandrupolis pipeline
         Acquisitions targets
Stroytransgas
   Upstream
         North Africa
         Central Asia
         Middle East
Surgutneftegaz
   Upstream
         Central Europe
         CIS
         Middle East
   Downstream
         Central and Eastern Europe
Tatneft
   Upstream
         Middle East and North Africa
   Downstream
         Ukraine
TNK-BP
   Downstream
         Ukraine
   New acquisitions targets
Zarubezhneft
   Upstream
         South-East Asia
   Downstream
         Bosnia and Herzegovina
   Acquisition targets
Figure 2.1 Gazprom Neft's hydrocarbon reserves, MMboe
Figure 2.2 Gazprom Neft oil production, MMBbls
Figure 4.1 LUKOIL Group International E&P projects
Figure 4.2 Shakh Deniz shareholder structure
Figure 4.3 LUKOIL Group's share in Arman oil production, '000 tons
Figure 4.4.LUKOIL Group's share in KPO oil and gas condensate production, '000 tons
Figure 4.6 LUKOIL Group's share in production at the Karakuduk field, '000 tons
Figure 4.7 LUKOIL Group's share in oil production of KazakhOil-Aktobe, '000 tons
Figure 4.8.LUKOIL Group's share in production in oil production of Turgai Petroleum, '000 tons
Figure 4.9 LUKOIL Group's share in Buzachi Operating oil production, '000 tons
Figure 4.10 TCO ownership structure
Figure 4.11 LUKOIL Group primary oil refining, Mb/d
Figure 5.1. Natural gas production, Bcm
Figure 5.2 Liquids production, MMt
Figure 6.1 Zarit shareholders' structure
Figure 8.2 MOL Group downstream portfolio, as of the end of 2008
Figure 8.3 MOL shareholders' structure (as of the end of 2008)
Table 3.1 Joint Ventures Contracts (JVCs)/Production Sharing Contracts (PSCs) with Suntera participation
Table 4.1 LUKOIL Overseas upstream projects: reserves and production
Table 4.2 LUKOIL Group's share in reserves and production at Shakh Deniz
Table 4.3 LUKOIL Group's share in reserves and production at the Arman field
Table 4.3 LUKOIL Group's share in reserves and production at the Karachaganak field
Table 4.5 LUKOIL Group's share in reserves and production of KazakhOil-Aktobe
Table 4.6 LUKOIL Group's share in reserves and production of Turgai Petroleum
Table 4.7 LUKOIL Group's share in reserves and production at the North Buzachi field
Table 4.8 LUKOIL Group's share in TCO reserves and production
Table 4.9 LUKOIL Group's share in reserves and production in the Kandym-Khauzak-Shady-Kungrad project
Table 4.10 LUKOIL Group's share in reserves and production at WEEM concession
Table 4.11 LUKOIL Group's share in reserves and production at Meleiha concession
Table 4.12 LUKOIL Group's retail network* worldwide (as of the end of the year), units
Table 4.13 LUKOIL Groups's share in petroleum product markets in Russia and other countries
Table 6.1. Rosneft's hydrocarbon reserves and production
Table 6.2. Exploration activities at the Aday block, as of the end of 2008
Table 6.3. The Aday Block pilot oil production
Table 6.4. Exploration activities at the Kurmangazy structure, as of the end of 2008
Table 9.1 Tatneft net oil and gas reserves and future net revenues, as of January 1, 2007 (SPE)
Table 9.2 Contracted blocks characteristics and work commitments
Table 10.1 TNK-BP proved reserves, billion of boe
Table 10.2 TNK-BP liquids and gas production
Table 11.1 Oil production by Vietsovpetro, MMt
Map 1. License blocks in Angola
Map 3.1 OPL 205 Block
Map 3.2 Licensing blocks in Turkmenistan's sector of the Caspian Sea
Map 4.2 Meleiha block
Map 4.3. LUKOIL-Odessa refinery location
Map 4.4. Petrotel-LUKOIL location
Map 4.5. LUKOIL Neftekhim Burgas location
Map 5.1. North El-Arish offshore block concession
Map 6.1 Orinoco Oil Belt
Map 8.1 MOL existing upstream portfolio, as of the end of 2008
Map 9.1 Location of major Sedimentary Basins of Libya
Map 11.1 Zarubezhneft's operation areas in Vietnam