Over the past 20 years, RPI has carried out hundreds of studies on all major segments of the oil and gas industry of Russia, CIS and Eastern Europe.

RPI specialists are permanently in close connect with the industry and monitor its developments closely to provide best-in-class analytics and information support for industry players.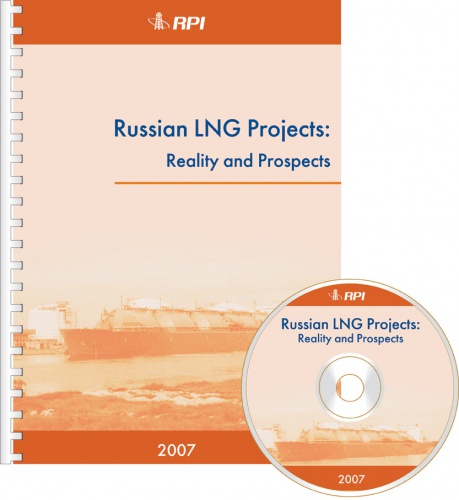 Russian LNG Projects: Reality and Prospects
goes beyond the headlines and examines key factors and trends influencing further development of LNG market in Russia.  
Key questions addressed in the report:
What are the primary regions for LNG production in Russia?
What factors facilitate or hamper the progress of Russian LNG projects
What are pros and cons of Shtokman LNG production?
Are deliveries from Baltic LNG feasible?
How vague is the future for LNG from Yamal?
What lies behind Gazprom's LNG strategy?
Russian LNG Projects: Reality and Prospects
is an important source of information for:
gas trading companies
gas producing companies
LNG shipping companies
service and equipment suppliers
engineering and construction companies
investment and banking institutions
consultancies and financial advisors
government institutions
1. Development of the world LNG market
1.1. History of LNG market development
1.2. Forecast of LNG market development
1.3. Cost decrease factor in the LNG value chain
 
2. Prerequisites of LNG production in Russia
 
3. LNG production on the basis of Shtokman gas condensate field
3.1. Background
3.2. The field in Gazprom's structure
3.3. Resourses
3.4. Technical concept
3.5. Risks of the project
3.6. Marketing
3.7. Status and prospects
3.8. SWOT analysis
 
4. The project for LNG production in the Leningrad Region (Baltic LNG)
4.1. Background
4.2. Resources
4.3. Technical concept
4.4. Business model
4.5. Economics of the project
4.6. Marketing
4.7. Risks of the project
4.8. Status and prospects
4.9. SWOT analysis
 
5. Sakhalin-2 project
5.1. Background
5.2. Gazprom's entry
5.3. Resources
5.4. Technical concept
5.5. Economics of the project
5.6. Marketing
5.7. Financing of the project
5.8. Risks of the project
5.9. Status and prospects
5.10. SWOT analysis
 
6. Kharasavey LNG
6.1. Background
6.2. Resources
6.3. Technical concept
6.4. Economics of the project
6.5. Risks of the project
6.6. Status and prospects
6.7. SWOT analysis
 
7. South Tambey LNG
7.1. Background
7.2. Gazprom enters the project
7.3. Resources
7.4. Technical concept of the LNG project
7.5. Economics of the project
7.6. Risks of the project
7.7. Status and prospects
7.8. SWOT analysis

Outlook for LNG development in Russia
Chart 1.1. Growth of the world demand for LNG (bcm)
Chart 1.2. Growth of LNG supply in the world (bcm)
Chart 1.3. Growth in the importance of Middle East supply (bcm)
Chart 1.4. Balance of demand and supply in the Atlantic Region (million tons per year)
Chart 1.5. Balance of demand and supply in the APR (million tons per year)
Chart 1.6. Construction cost for LNG plants in 1980s and 1990s
Chart 1.7. Cost of LNG plants construction based on EPC-contracts ($/tpa)
Chart 1.8. LNG train completions by EPC contractors
Chart 1.9. LNG carrier new-build price for a 125,000-cubic meter vessel between 1992 and 2000 (million dollars)
Chart 1.10. Delivered price of ex-Lake Charles plant gate
Chart 2.1. Relationship between prices for LNG and pipeline gas (dollars per million BTU)
Chart 2.2 . Comparisons of delivered costs of Russian pipeline (incl. export duty) to Europe vs. LNG  (dollars per million BTU)
Chart 2.3. Licensing of gas reserves to subsoil users in Russia (tcm)
Chart 3.1. The proven reserves of oil and gas at Shtokman Field (SGCF) and 5 contending companies on the short list for participation in the project (bboe)
Chart 3.2. Profile of gas production on the field with a volume of 90 bcm up to 2025
Chart 5.1. Shares in Sakhalin Energy before negotiations with Gazprom (%)
Chart 5.2. Oil production under the Sakhalin-2 project (thousand tons)
Chart 5.3. Comparison of average LNG DES prices in the markets of the Sakhalin-2 project and  weighted average prices cost plus Sakhalin-2 (dollars per million BTU)
Chart 6.1. Reserves of the Kharasavey field (%)
Chart 6.2. Production profile of Kharasavey field (bcm)
Chart 7.1. Reserves of South Tambey field (%)
Table 1.1. LNG suppliers' reserves of gas, including prospective ones, 2005 (tcm)
Table 2.1. Optimistic assessment of the outlook for pipeline export of gas. (bcm)
Table 3.1. Distances between the major centers of LNG production and consumption (nautical miles)
Table 3.2. Cost plus FOB prices at the outlet of the Shtokman LNG plant(dollars per million BTU)
Table 3.3. The most attractive terminals for LNG deliveries from Russia
Table 4.1. Cost plus FOB prices at the outlet of the Baltic LNG plant(dollars per million BTU)
Table 4.2. Possible supplies on the Atlantic market's terminals from the Baltic LNG (bcm)
Table 4.3. Comparative analysis of LNG deliveries to the USA and the UK via Baltic LNG plant, supply of gas to Germany via Nord Stream pipeline, and distribution of gas in Russia  (dollars per million BTU)
Table 5.1. Cost plus FOB prices at the outlet of the Sakhalin Energy LNG plant  (dollars per million BTU)
Table 5.2. Distances between the major centers of LNG production and consumption  (nautical miles)
Table 5.3. LNG delivery contracts by Sakhalin Energy company
Table 6.1. Kharasavey LNG: allocation of capital investments (million dollars)
Map 2.1 Prospective regions of LNG production in Russia
Map 3.1. The project for development of Shtokman field and for export of LNG and pipeline gas via Nord Stream pipeline
Map 3.2. Map of the gas flow in the Atlantic part of the USA and regional prices compared to Henry Hub (dollars per million BTU)
Map 4.1. Deliveries of gas to the Baltic LNG plant from the Unified Gas Supply System
Map 5.1. Sakhalin-2 project
Map 6.1. Kharasavey gas condensate field in the Yamal peninsula
Map 6.2. Layout of the Kharasavey port
Map 7.1. South Tambey oil and gas condensate field in the Yamal Peninsula