Over the past 20 years, RPI has carried out hundreds of studies on all major segments of the oil and gas industry of Russia, CIS and Eastern Europe.

RPI specialists are permanently in close connect with the industry and monitor its developments closely to provide best-in-class analytics and information support for industry players.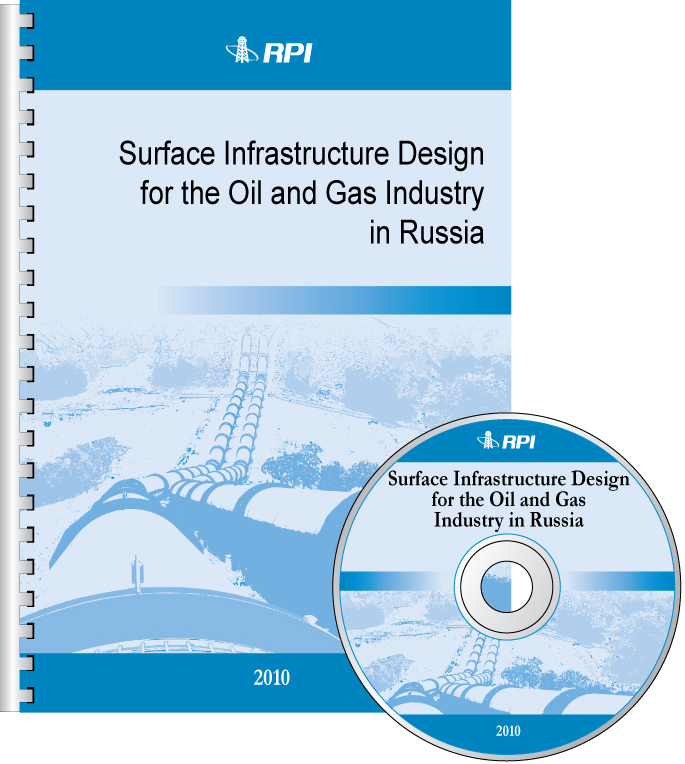 Development of the oil and gas industry urges constant modernization of surface infrastructure to provide sustainable functioning of all facilities involved in production, transportation and procession of hydrocarbons. Present global economic downturn did not considerably affect the volume of surface infrastructure design services in Russia, but rather made oil and gas producing companies reconsider their infrastructure design programs and adapt them to the present realities, in some cases postponing the plans for a couple of years.
What is the current state of surface infrastructure design market in Russia and how will it develop to 2015?
What are major design companies in Russia and what is their distribution on the market?
What are the volumes of design services by major oil and gas producing regions in Russia and what are the projections to 2015?
What are the main schemes of cooperation between customers, contractors and subcontractors in providing infrastructure design services?
What approaches are taken by Russian oil and gas majors in designing their field infrastructures?
What are the specifics of holding tenders for selecting design companies? What are primary approaches for evaluation of a project's working costs?
Surface Infrastructure Design for the Oil and Gas Industry in Russia addresses these and other key issues providing an examination of how the market developed in 2007-2009 and offering an outlook to 2015.
 
Surface Infrastructure Design for the Oil and Gas Industry in Russia is a source of indispensable information for:
construction and engineering companies

equipment producers and suppliers

oil and gas companies

investment and financial institutions
Introduction
Key Findings
1. Design Services Market in Russia and Development Forecast
1.1. Major Design Services Clients
Gazprom

Gazprom Neft

LUKOIL

TNK-BP

Rosneft

Surgutneftegaz

NOVATEK

Transneft

1.2. Major Subsegments of the Design Services Market
Design for Field Surface Development

Design for Oil and Gas Trunk Pipelines

Design of Construction and Upgrades for Refineries and Gas Processing Plants

1.3. Field Development Design in Russia's Main Oil and Gas Producing Provinces
Western Siberia

Eastern Siberia

Volga-Urals

Timan-Pechora

1.4. Major Design Services Contractors
1.5. Major Market Participants
OAO VNIPIgazdobycha

OAO Giprospetsgaz

OAO Giprogazcenter

OOO NK Rosneft – Nauchno-Tekhnichesky Tsentr (Research and Design Center)

OOO Gazprom VNIIGAZ

OOO TyumenNIIgiprogaz

OAO VNIIST

ZAO PIRS

OOO Giprotruboprovod

OAO Giprotyumenneftegaz

OAO TomskNIPIneft

OAO Giprovostokneft

OOO RN-UfaNIPIneft

OAO VNIPIneft

OOO Lengiproneftekhim

SurgutNIPIneft OAO Surgutneftegaz

OAO NizhnevartovskNIPIneft

OAO Samaraneftechimproject

OAO NIPIgazpererabotka

ZAO NIPI InjGeo

ZAO NIPI NGH (ZAO GK RusGazEngineering)

OOO STG-Engineering

1.6. Foreign Design Companies in Russia
Design for surface field development

Design of oil refining and gas processing facilities
2. Benchmark Analysis of Oil and Gas Company Approaches to Design for Field
Development and Infrastructure
2.1. Gazprom
OAO VNIPIgazdobycha

OOO GazpromVNIIgaz

OAO Giprogazcenter

OAO Giprospetsgaz

Severo-Kavkazsky research and design institute of natural gases (OAO SevkavNIPIgaz)

DOAO CKBN OAO Gazprom
2.2. LUKOIL
OOO KogalymNIPIneft

OOO PermNIPIneft

OOO LUKOIL-VolgogradNIPImorneft

OOO PechorNIPIneft

2.3. Transneft
2.4. Surgutneftegaz
2.5. TNK-BP
2.6. Rosneft
OOO NK Rosneft – Research and Engineering Center

OOO RN - SakahlinNIPImorneft

OOO RN - UfaNIPIneft

OOO SamaraNIPIneft

OAO TomskNIPIneft VNK

OOO RN - KrasnoyarskNIPIneft

ZAO INNC (Izhevsk Scientific Oil Center)

2.7. Gazprom Neft
2.8. NOVATEK
Figure 1. Client-contractor-subcontractor interaction scheme in the segment of design services for oil refineries
Figure 2. Interfaces between design entities during field surface development design in Gazprom
Figure 3. Interfaces between design entities within Gazprom during design of gas trunk pipelines
Figure 4. Interfaces between design entities during field surface development design within LUKOIL
Figure 5. Interfaces between design entities for Transneft during design for oil trunk pipelines
Figure 6. Interfaces between design entities within Surgutneftegaz during field surface development design
Figure 5. Interfaces between design entities for TNK-BP during field surface development design
Figure 8. Interfaces between design entities in Rosneft during field surface development design
Figure 9. Interfaces between design entities within Gazprom Neft during field surface development design
Figure 10. Interfaces between design entities in NOVATEK during field surface development design

Diagram 1. Actual and forecasted changes in the design market, from 2007 through 2015, RUB billion
Diagram 2. Actual and forecasted changes by design market segments, from 2007 through 2015, RUB billion
Diagram 3. Shares of major clients by design market segments, percent, 2008
Diagram 4. Shares of major clients by design market segments, percent, 2009
Diagram 5. Actual and forecasted changes of design scopes by major clients from 2007 through 2015, RUB billion
Diagram 6. Actual and forecasted changes in expenditures on surface infrastructure design by Gazprom, from 2007 through 2015, billion RUB
Diagram 7. Actual and forecasted changes in expenditures on surface infrastructure design by Gazprom Neft, from 2007 through 2015, RUB billion
Diagram 8. Actual and forecasted changes in expenditures on surface infrastructure design by LUKOIL, from 2007 through 2015, RUB billion
Diagram 9. Actual and forecasted changes in expenditures on surface infrastructure design by TNK-BP, from 2007 through 2015, RUB billion
Diagram 10. Actual and forecasted changes in expenditures for surface infrastructure design by Rosneft, from 2007 through 2015, RUB billion
Diagram 11. Actual and forecasted changes in expenditures on surface infrastructure design by Surgutneftegaz, from 2007 through 2015, RUB billion
Diagram 12. Actual and forecasted changes in expenditures on surface infrastructure design by NOVATEK, from 2007 through 2015, RUB million
Diagram 13. Actual and forecasted changes in expenditures on surface infrastructure design by Transneft, from 2007 through 2015, RUB billion
Diagram 14. Scope of field surface development design in Russia's main producing regions and forecasted development, from 2007 through 2015, RUB billion
Diagram 15. Actual and forecasted changes in field surface development design scopes in Russia's main producing regions, from 2007 through 2015, RUB billion
Diagram 16. Actual and forecasted changes in design scopes for trunk pipelines, from 2007 through 2015, RUB billion
Diagram 17. Actual and forecasted changes in design scopes for refining and gas processing facilities, from 2007 through 2015, RUB billion
Diagram 18. Shares of Russia's main producing provinces in the field surface development design segment, percent, 2008
Diagram 19. Shares of Russia's main producing provinces in the field surface development design segment, percent, 2009
Diagram 20. Actual and forecasted changes in expenditures on field development design in main producing provinces, from 2007 through 2015, RUB billion
Diagram 21. Market shares of major players in design for oil and gas infrastructure facilities, 7percent, 2008
Table 1. Gazprom's projected major design scopes for surface field development facilities, from 2010 through 2015, RUB billion
Table 2. Estimate of Gazprom's major design scopes for gas processing facility upgrades, from 2010 through 2015, thousand RUB
Table 3. Estimate of Gazprom's major design scopes for gas processing facility construction, from 2010 through 2015, thousand RUB
Table 4. Estimate of Gazprom Neft's major design scopes for oil and gas infrastructure, from 2010 through 2015, RUB billion
Table 5. Estimate of LUKOIL's major design scopes for oil and gas infrastructure, from 2010 through 2015, RUB billion
Table 6. Estimate of TNK-BP's major design scopes for oil and gas infrastructure, from 2010 through 2015, RUB billion
Table 7. Estimate of Rosneft's major design scopes for oil and gas infrastructure, from 2010 through 2015, RUB billion
Table 8. Estimate of Surgutneftegaz's major design scopes for oil and gas infrastructure, from 2010 through 2015, RUB billion
Table 9. Estimate of NOVATEK's major design scopes for gas infrastructure, from 2010 through 2015, RUB billion
Table 10. Estimate of Transneft's major design scopes for oil and gas infrastructure, from 2010 through 2015, RUB billion
Table 11. Revenues of major design companies in Russia and their market shares by total revenues, 2008
Table 12. VNIPIgazdobycha: financial performance indicators from 2006 through the 2nd quarter of 2009
Table 13. List of branch offices and divisions of Giprospetsgaz
Table 14. Giprospetsgaz clients in 2007 and 2008
Table 15. Giprospetsgaz contractors in 2007 and 2008
Table 16. Giprospetsgaz: financial performance indicators from 2006 through the 3nd quarter of 2009
Table 17. Giprospetsgaz revenue breakdown in 2007 and 2008
Table 18. Giprospetsgaz revenue breakdown by regions in 2007 and 2008
Table 19. Changes in Giprospetsgaz staff headcount from 2004 through 2009
Table 20. Breakdown of Giprogazcenter contracts by type of service in 2008
Table 21. Giprogazcenter: financial performance indicators from 2006 through 2008
Table 22. NK Rosneft - NTT: financial performance indicators from 2006 through 2008
Table 23. Gazprom VNIIGAZ: financial performance indicators from 2006 through 2008
Table 24. TyumenNIIgiprogaz: financial performance indicators from 2006 through 2008
Table 25. VNIIST: financial performance indicators from 2006 through 2008
Table 26a. VNIIST: revenue breakdown by type of operation from 2006 through 2008
Table 26b. VNIIST: revenue breakdown by type of operation from 2007 through 2008
Table 27. VNIIST: headcount by division in 2007 and 2008
Table 28. ZAO PIRS: financial performance indicators from 2006 through 2008
Table 29. Giprotruboprovod: financial performance indicators from 2006 through 2008
Table 30a. Giprotyumenneftegaz: financial performance indicators from 2006 through the 3rd quarter of 2009
Table 30b. Giprotyumenneftegaz: financial performance indicators from 2007 through 2008
Table 30c. Giprotyumenneftegaz: financial performance indicators
Table 30d. Giprotyumenneftegaz: financial performance indicators
Table 31. Giprotyumenneftegaz 'planned financial performance indicators, 2009-2011
Table 32. Key clients of TomskNIPIneft, 2008
Table 33. Subcontractors providing over 10 percent of total deliverables to TomskNIPIneft
Table 34. TomskNIPIneft: revenues from 2005 through 2007, thousand RUB
Table 35. TomskNIPIneft: financial performance indicators from 2006 through 2008
Table 36. Giprovostokneft: financial performance indicators from 2006 through the 3rd quarter of 2009
Table 37. Rn-UfaNIPIneft: financial performance indicators from 2005 through 2008
Table 38. VNIPIneft: financial performance indicators from 2006 through 2008
Table 39. VNIPIneft: planned staffing changes from 2009 through 2012
Table 40. Lengiproneftekhim: financial performance indicators from 2006 through 2008
Table 41. SurgutNIPIneft: financial performance from 2007 through 2009
Table 42à. NizhnevartovskNIPIneft: financial performance from 2006 through 2008
Table 42b. NizhnevartovskNIPIneft: financial performance indicators from 2006 through 2008
Table 43. Samaraneftechimproject: financial performance indicators from 2006 through 2008
Table 44. Samaraneftechimproject: Design and surveys performed from 2004 through 2008
Table 45. NIPIgazpererabotka: financial performance indicators from 2006 through
Table 46. NIPIgazpererabotka:delivered work and average headcount in 2008
Table 47. NIPI InjGeo: financial performance indicators from 2006 through 2008
Table 48. NIPI NGH: financial performance indicators from 2006 through 2008
Table 49. STG-Engineering: financial performance indicators from 2006 through 2008