Over the past 20 years, RPI has carried out hundreds of studies on all major segments of the oil and gas industry of Russia, CIS and Eastern Europe.

RPI specialists are permanently in close connect with the industry and monitor its developments closely to provide best-in-class analytics and information support for industry players.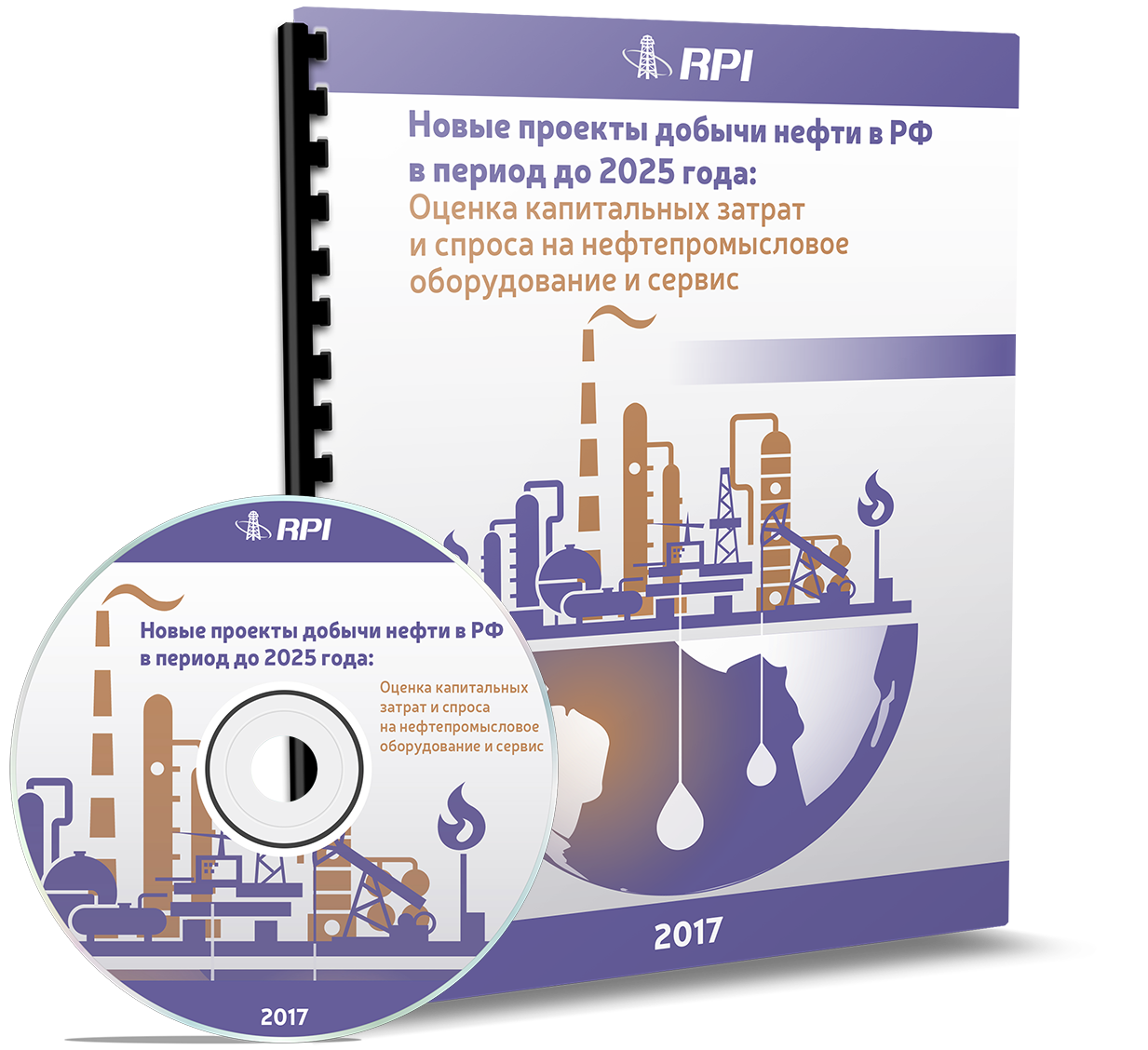 The English version of the report is available in 2-3 weeks after ordering
The stabilization of global oil prices that took place in late 2016 – early 2017 has resulted in more favorable conditions for making investment decisions on developing new oil and gas fields in Russia. Over the course of 2015 and 2016, start of commercial development had to be re-scheduled at a number of fields including such important ones as Yurubcheno-Tokhomskoye, Kuyumbinskoye, Tagulskoye and Russkoye. By now, new investment programs have been planned, and production from oil fields to be brought onstream starting 2017 is projected by 2030 to constitute 24% of total oil output in Russia, at the level of 140 million tons per year (2.8 MMbpd). Between 2017 and 2025, developing the main group of 50 large and midsized oil fields will require capex of 6 trillion RUR, which equals over 100 billion USD (at current exchange rates).
In order to provide a detailed picture of this set of opportunities, RPI has released the research report "New Oil Production Projects in Russia to 2025: Capital Expenditures and Demand for Oilfield Equipment and Services".
The report's focus is to develop forecasts of capital expenditures for oil fields slated to go onstream in 2017-2025, as well as estimates of demand for main types of oilfield services and equipment. These projects will become the key source of demand for high tech oilfield services and equipment, owing to a high share of horizontal wells (up to 95 percent in some regions), as well as to complex geological and climate conditions.
The research provides capex estimates on 50 large and midsized fields, broken down by main types of field infrastructure and components of well construction (including vertical and horizontal drilling, cementing, logging and drilling fluids). The report also covers, in less detail, the fields commissioned during the period of 2012-2016.
1 Executive summary
2 Russia's oil production structure
2.1 Role and place of new fields in Russia's oil production structure
2.2 Estimated timeframe for commissioning the examined oil fields
3 Demand for field infrastructure to 2025
3.1 Total capital expenditures (capex)
3.2 Capex in well construction
3.3 Capex in field infrastructure
3.4 Capex in construction of connecting pipelines
3.5 Production wells 
3.6 Horizontal wells
3.6 Oil booster stations and oil treatment plants
4 Demand for main types of oilfield equipment and services to 2025
4.1 Demand by oil production region
4.2 Demand by major oil company
5 Field profiles (total number: 50)
Each field's profile contains the following information:
• General information: reserves, expected start of production, forecast production estimate and others
• Estimated capex in field development, broken down by well construction and field infrastructure
• Estimated number of wells (by type) and key oilfield infrastructure facilities (oil treatment plants, oil booster stations, etc.)
5.1 Fields in Khanty-Mansiysk autonomous district (Western Siberia)
• Gavrikovskoye 
• Filipenko 
• Shugurskoye 
… other fields
5.2 Fields in Yamal-Nenets autonomous district (Western Siberia)
• East Messoyakhskoye 
• West Messoyakhskoye 
• Russkoye 
… other fields
5.3 Fields in Volga-Urals region
• Velikoye 
• Sukharev 
• Klintsovskoye 
… other fields
5.4 Fields in Timan-Pechora region
• Layavozhskoye 
• Nenetskoye 
• Nizhnechutinskoye 
… other fields
5.5 Fields in Evenkiya (Krasnoyarsk territory, Eastern Siberia)
• Chambinskoye 
• Yurubchen-Tokhomskoye 
… other fields
5.5 Fields in other regions of Eastern Siberia
• Baikalovskoye 
• Vakunaiskoye
• Tympuchikanskoye
… other fields
5.6 Fields in other regions of the Russian Federation