Over the past 20 years, RPI has carried out hundreds of studies on all major segments of the oil and gas industry of Russia, CIS and Eastern Europe.

RPI specialists are permanently in close connect with the industry and monitor its developments closely to provide best-in-class analytics and information support for industry players.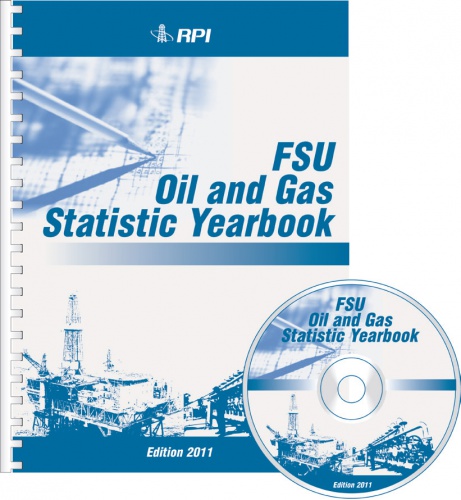 RPI, a leading provider of industry and market research on the energy sector of Russia and the Caspian region, would like to bring to your attention the new analytical research FSU Oil and Gas Statistic Yearbook 2011. The report provides comprehensive historical and 2010 year-end information on upstream, downstream and midstream operations in the major oil and gas producing countries and companies in the Former Soviet Union. The Yearbook includes tables, maps and charts in full colour with extensive statistics on oil and gas production, drilling, wells count, exports and transit of gas, oil and oil products in the period of 2000-2010.

Countries covered in the Yearbook include:
- Russia
- Azerbaijan
- Kazakhstan
- Turkmenistan
- Ukraine
Statistical data is also grouped into detailed profiles of major oil and gas companies:
- AIOC
- Bashneft
- Gazprom
- Gazprom Neft
- KazMunaiGaz
- LUKOIL
- Natfogas of Ukraine
- Rosneft
- Russneft
- Slavneft
- Surgutneftegas
- Tatneft
- TNK-BP
Company-level statistics gives data on:
- oil and gas production
- exploration and production drilling
- wells count - operational, idle, and new wells
- refining – including breakdown by oil products
- exports – by producer, exporter and destination
FSU Oil & Gas Statistics Yearbook 2011
also includes stats, charts and maps detailing:
key export / transit countries and:
- China
- Czech Republic
- Germany
- Hungary
- Poland
- Slovakia
major ports:
- Gdansk
- Novorossiysk
- Odessa
- Primorsk
- Tuapse
- Yuzhny
1. FSU Oil and Gas Overview
1.1. Oil and Gas Production
1.2. Outlook for Oil Production and Exports
1.2. Outlook for Oil Production and Exports

2. Russia
2.1. Overview
2.2. Oil Production
2.3. Oil Exports to CIS
2.4. Transit of Oil from Azerbaijan, Belarus and Kazakhstan through Russia
2.5. Oil Exports outside CIS
2.6. Gas Production
2.7. Gas Exports
2.8. Drilling and Wells Count
2.8. Drilling and Wells Count
2.9. Refining and Exports of Oil Products

3. Profiles of Russian Major Oil and Gas Companies
3.1. Bashneft
3.2. Gazprom Neft
3.3. LUKOIL
3.4. Rosneft
3.5. Russneft
3.6. Slavneft
3.7. Surgutneftegaz
3.8. Tatneft
3.9. TNK-BP
3.10. Gazprom

4. Azerbaijan
4.1. Overview
4.2. Oil Production
4.3. Oil Exports
4.4. Gas Production
4.5. Oil Refining and Gas Processing
4.6. Production of Oil Products
4.7. AIOC Oil and Gas Production

5. Kazakhstan
5.1. Overview
5.2. Oil Production
5.3. Oil Exports
5.4. Oil Refining
5.5. Gas Production
5.6. Gas Exports, Imports, Transits
5.7. KazMunaiGaz Oil and Gas Production

6. Ukraine
6.1. Overview
6.2. Oil Production
6.3. Oil Exports
6.4. Oil Refining
6.5. Gas Production
6.6. Gas Exports, Imports

7. Turkmenistan
7.1. Overview
7.2. Oil Production
7.3. Oil Exports
7.4. Oil Refining and Exports of Oil Products
7.5. Gas Production
7.6. Gas Exports