Over the past 20 years, RPI has carried out hundreds of studies on all major segments of the oil and gas industry of Russia, CIS and Eastern Europe.

RPI specialists are permanently in close connect with the industry and monitor its developments closely to provide best-in-class analytics and information support for industry players.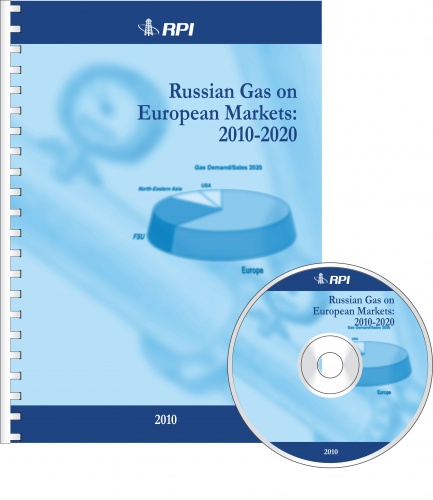 Undeterred by the recent developments, Russia, the world's largest holder, producer and exporter of natural gas keeps up strong pace in further securing its positions in Europe and diversifying gas flows to this traditional market:
Nord Stream project with the design capacity of 55 bcm annually going under the Baltic Sea and passing through Russian, Finnish, Swedish, Danish and German waters is being progressively developed. On November 5th 2009, Finland and Sweden gave their final consent to the Nord Stream gas pipeline route, with Russia and Germany granting the project approval at the end of 2009 marking the start of its implementation in full. Construction of offshore infrastructure has been under way since 2008.
South Stream project is scheduled to be completed by 2015 to deliver Russian gas under the Black Sea to the Balkans and onto the Western Europe. The pipeline's projected design capacity was doubled in November 2009 to 63 bcm. In 2009 Russia signed cooperation agreements with a number of European countries and companies, most recently with Slovenia and France in November. Austria is also seen among potential project partners.
Recently Gazprom aired its plans to boost
gas exports
to Europe in 2010
by 15%
raising gas supply to
160 bcm
compared with 140 bcm level of 2009.

Russian Gas on European Markets: 2010-2020
analyzes developments to the year 2009 and examines key drivers of and latest trends in Russia's gas export policy in this region.
Key questions addressed:
What is the impact of the economic crisis on Russia's gas exports to Europe and CIS?
What are the consequences of the Russian-Ukrainian gas conflict for European gas importers?
What strategies and approaches to European end-users of natural gas are implemented by Russia?
What are possible mid-term scenarios of Russian gas deliveries to European and CIS countries?
Russian Gas on European Markets: 2010-2020
also reviews Russia's potential to retain leading positions on traditional European gas markets and provides detailed profiles of 31 countries-importers.
Each country-importer profile is structured to the following pattern:
Introduction
Current balances of primary energy sources

consumption by type of fuel
share of natural gas in energy consumption

Historic and present gas consumption

key consumers
existing gas infrastructure

Share of Russian gas exports in overall supplies
Gazprom's counterparts and interaction with them
Diversification of natural gas in-flows

existing export routes
options to diversify deliveries
gas transit issues (where applicable)

Gazprom's activities in the local gas sector

strategies and goals pursued: outlook to 2020
presence in local gas companies
access to end users (where applicable)

Outlook for Russian gas supplies to the local market

three scenarios: 2010-2020
Request sample country-importer profile!
The
scenarios
for the volumes of Russian gas within each profile
are based on
:
world crude and oil product prices
status of Gazprom's current and prospective E&P and midstream projects
demand for natural gas in Europe and CIS
Gazprom's contracted export volumes, current and future
Russian Gas on European Markets: 2010-2020
is an essential analytical support tool for:
energy policy-makers
gas producers
utilities and other gas consumers
gas transportation, distribution and trading companies
financial and investment institutions
contractors and equipment suppliers
1. Introduction

2. Russian gas industry infrastructure oriented to traditional markets
2.1. Gas production capacity
2.2. Transport infrastructure

3. Western Europe
3.1. Belgium
3.2. France
3.3. Germany
3.4. Italy
3.5. The Netherlands
3.6. Switzerland
3.7. United Kingdom

4. Northern Europe
4.1. Denmark
4.2. Finland

5. Central Europe
5.1. Austria
5.2. Czech Republic
5.3. Poland
5.4. Slovakia

6. South Eastern Europe
6.1. Bosnia and Herzegovina
6.2. Bulgaria
6.3. Croatia
6.4. Greece
6.5. Hungary
6.6. Macedonia
6.7. Romania
6.8. Serbia
6.9. Slovenia
6.10. Turkey

7. European Former Soviet Union countries
7.1. Armenia
7.2. Belarus
7.3. Estonia
7.4. Georgia
7.5. Latvia
7.6. Lithuania
7.7. Moldova
7.8. Ukraine

8. Russian exports up to 2020: the scenarios
8.1. Key trends in development
8.2. Russian gas export scenarios to 2020
8.2.1. The White scenario - High oil price scenario: US$75 per barrel or higher
8.2.2. The Blue scenario- Medium oil price range: US$60 to US$75 per barrel
8.2.3. The Red scenario - Low oil price range: US$45 to US$60 per barrel
Figure 1.1. World's proven reserves of natural gas, 2009
Figure 1.2. World production of marketed natural gas in 2008
Figure 1.3. Gazprom's deliveries to Europe compared to the deliveries of other producers and Europe's own gas production in 2008 (bcm)
Figure 1.4. Gazprom Group and other producers' deliveries to the European market in 2000-2009 (bcm)
Figure 1.5. Comparative analysis of deliveries in 2004 and 2008 in terms of volumes and revenues
Figure 1.6. Priorities of Gazprom's gas business development
Figure 1.7. Gazprom Group gas sales to Europe (excluding FSU) and export gas prices, 2000-2009
Figure 1.8. Gazprom Group gas sales to FSU and export gas prices, 2000-2009
Figure 1.9. Oil price parameters in 2010 – 2020 by three scenarios (US$/barrel)
Figure 1.10. Deliveries of Russian gas to traditional export markets in 2008,-2010, 2015, 2020 (bcm)
Figure 2.1. Gazprom's proven reserves, 2000 to 2008 (tcm)
Figure 2.2. Russia's proven reserves by subsoil user category
Figure 2.3. Gas reserves transferred to Gazprom by the Russian government compared to reserves of various gas exporters to Europe (tcm)
Figure 2.4. Distribution of the resource base intended for westbound supplies
Figure 2.5. Composition of gas production in Western Siberia in 2009
Figure 2.6 Gazprom gas production in its Western fields, 2000 to 2008 (bcm)
Figure 2.7. Large fields to be commissioned and large fields with production growth possibility by 2020. Gas production plateau (bcm)
Figure 2.8. Shareholders in Shtokman Development AG
Figure 2.9. Supplies of Central Asian gas to Gazprom in Russia, 2003 to 2009 (bcm)
Figure 2.10. Supplies of Central Asian gas to Gazprom by country, 2008
Figure 2.11. Natural gas production potential in the West before the crisis, according to production plans for 2010 to 2020 (bcm)
Figure 2.12. Development of Gazprom's gas transportation system and gas consumption used for its operation, 2001 to 2008
Figure 2.13. Gazprom's pipelines by pipe diameter in 2008
Figure 2.14. The age of Gazprom's pipelines in 2004, 2006, 2008
Figure 2.15. Development of underground gas storage in Russia in 2004-2008 (bcm)
Figure 2.16. Development trends for aggregate capacity of the gas transportation systems available to Gazprom for export to non-CIS markets till 2020 (bcm)
Figure 2.17. Gas supplied by Gazprom via the Blue Stream pipeline (bcm)
Figure 2.18. Shareholders of Nord Stream AG and the project company structure
Figure 2.19. Maximum possible supply volumes under new contracts within Nord Stream (bcm)
Figure 3.1.1. Primary energy consumption by type of source in Belgium in 2008
Figure 3.1.2. Natural gas consumption in Belgium in 2000-2009 (bcm)
Figure 3.1.3. Natural gas consumption in Belgium by consumer segment
Figure 3.1.4. Natural gas suppliers to Belgium, 2008
Figure 3.1.5. Ownership structure of Interconnector
Figure 3.1.6. Scenarios for projected natural gas deliveries to Belgium, 2009-2020 (bcm)
Figure 3.2.1. Primary energy consumption by type of source in France in 2008
Figure 3.2.2. Natural gas consumption in France in 2000-2009 (bcm)
Figure 3.2.3. Natural gas consumption in France by consumer segment
Figure 3.2.4. Natural gas suppliers to France, 2008
Figure 3.2.5. Scenarios for projected natural gas deliveries to France, 2009-2020 (bcm)
Figure 3.3.1. Primary energy consumption by type of source in Germany in 2008
Figure 3.3.2. Production, exports, imports and consumption of natural gas in Germany in 2000-2008 (bcm)
Figure 3.3.3. Natural gas consumption in Germany by consumer segment
Figure 3.3.4. Natural gas suppliers to Germany, 2008
Figure 3.3.5. Russian natural gas transit via Germany in 2000 and 2005-2009 (bcm)
Figure 3.3.6. Gas storaged by Gazprom Group in UGSs of Germany in 2005-2008 (bcm)
Figure 3.3.7. Wingas key performance indicators in 2008
Figure 3.3.8. The share of ownership by Gazprom Germania of the Germany-based companies
Figure 3.3.9. Ownership structure of VNG
Figure 3.3.10. Scenarios for projected natural gas deliveries to Germany, 2009-2020 (bcm)
Figure 3.4.1. Primary energy consumption by type of source in Italy in 2008
Figure 3.4.2. Natural gas cosumption in Italy in 2000-2009 (bcm)
Figure 3.4.3. Natural gas consumption in Italy by consumer segment
Figure 3.4.4. Natural gas suppliers to Italy, 2008
Figure 3.4.5. Ownership structure of A2A Beta
Figure 3.4.6. Scenarios for projected natural gas deliveries to Italy (bcm), 2009-2020
Figure 3.5.1. Primary energy consumption by type of source in the Netherlands in 2008
Figure 3.5.2. Production, exports, imports and consumption of natural gas in the Netherlands in 2000-2008 (bcm)
Figure 3.5.3. Natural gas consumption in the Netherlands by consumer segment
Figure 3.5.4. Natural gas suppliers to the Netherlands, 2008
Figure 3.5.5. Ownership structure of BBL
Figure 3.5.6. Scenarios for projected natural gas deliveries to the Netherlands, 2009-2020 (bcm)
Figure 3.6.1. Primary energy consumption by type of source in Switzerland in 2008
Figure 3.6.2. Natural gas consumption in Switzerland in 2000-2009 (bcm)
Figure 3.6.3. Natural gas consumption in Switzerland by consumer segment
Figure 3.6.4. Natural gas suppliers to Switzerland, 2008
Figure 3.6.5. Scenarios for projected natural gas deliveries to Switzerland, 2009-2020 (bcm)
Figure 3.7.1. Primary energy consumption by type of source in the United Kingdom in 2008
Figure 3.7.2. Production, exports, imports and consumption of natural gas in the United Kingdom in 2000-2008 (bcm)
Figure 3.7.3. Natural gas consumption in the United Kingdom by consumer segment
Figure 3.7.4. Natural gas suppliers to the United Kingdom, 2008
Figure 3.7.5. Growth of Gazprom's underground gas storage volumes in the United Kingdom in 2005-2008 (bcm)
Figure 3.7.6. GMT corporate structure
Figure 3.7.7. Scenarios for projected natural gas deliveries to the United Kingdom, 2009-2020 (bcm)
Figure 4.1.1. Primary energy consumption by type of source in Denmark in 2008
Figure 4.1.2 Proved reserves and gas production in Denmark in 2000-2009 (bcm)
Figure 4.1.3. Natural gas consumption in Denmark by consumer segment
Figure 4.1.4. Gas exports from Denmark in 2008
Figure 4.1.5. Scenarios for projected natural gas deliveries to Denmark, 2012-2020 (bcm)
Figure 4.2.1. Primary energy consumption by type of source in Finland in 2008
Figure 4.2.2. Natural gas consumption in Finland, 2000-2009 (bcm)
Figure 4.2.3. Natural gas consumption in Finland by consumer segment
Figure 4.2.4. Ownership structure of Gasum
Figure 4.2.5. Scenarios for projected natural gas deliveries to Finland, 2009-2020 (bcm)
Figure 5.1.1. Primary energy consumption by type of source in Austria in 2008
Figure 5.1.2. Natural gas consumption in Austria in 2000-2009 (bcm)
Figure 5.1.3. Natural gas consumption in Austria by consumer segment
Figure 5.1.4. Structure of Gazprom's contract supply to Austria
Figure 5.1.5. Gas imports to Austria in 2008
Figure 5.1.6. CEGH expected shareholders
Figure 5.1.7. Scenarios for projected natural gas deliveries to Austria, 2009-2020 (bcm)
Figure 5.2.1. Primary energy consumption by type of source in Czech Republic in 2008
Figure 5.2.2. Natural gas consumption in Czech Republic in 2000-2009 (bcm)
Figure 5.2.3. Natural gas consumption in Czech Republic by consumer segment
Figure 5.2.4. Gas supplies to the Czech Republic, not accounting for re-exports
Figure 5.2.5. Ownership structure of Vemex
Figure 5.2.6. Scenarios for projected natural gas deliveries to Chech Republic, 2009-2020 (bcm)
Figure 5.3.1. Primary energy consumption by type of source in Poland in 2008
Figure 5.3.2. Natural gas consumption in Poland in 2000-2009 (bcm)
Figure 5.3.3. Natural gas consumption in Poland by consumer segment
Figure 5.3.4. Natural gas suppliers to Poland, 2008
Figure 5.3.5. Transportation of Russian natural gas to and via Poland in 2004-2009 (bcm)
Figure 5.3.6. Ownership structure of EuRoPol Gaz, 2008
Figure 5.3.7. Scenarios for projected natural gas deliveries to Poland, 2009-2020 (bcm)
Figure 5.4.1. Primary energy consumption by type of source in Slovakia in 2008
Figure 5.4.2. Natural gas consumption in Slovakia in 2000-2008 (bcm)
Figure 5.4.3. Natural gas consumption in Slovakia by consumer segment
Figure 5.4.4. Russian natural gas transit via Slovakia (bcm)
Figure 5.4.5. Scenarios for projected natural gas deliveries to Slovakia, 2009-2020 (bcm)
Figure 6.1.1. Primary energy consumption by type of source in Bosnia and Herzegovina in 2008
Figure 6.1.2. Natural gas consumption in Bosnia and Herzegovina in 2000-2008 (bcm)
Figure 6.1.3. Natural gas consumption in Bosnia and Herzegovina by consumer segment
Figure 6.1.4. Scenarios for projected natural gas deliveries to Bosnia and Herzegovina, 2009-2020 (bcm)
Figure 6.2.1. Primary energy consumption by type of source in Bulgaria in 2008
Figure 6.2.2. Natural gas consumption in Bulgaria in 2000-2008 (bcm)
Figure 6.2.3. Natural gas consumption in Bulgaria by consumer segment
Figure 6.2.4. Gazprom's natural gas supplies to Bulgaria by company
Figure 6.2.5. Russian natural gas transit via Bulgaria, 2000-2009 (bcm)
Figure 6.2.6. Gas supplies of Overgas to final consumers
Figure 6.2.7. Scenarios for projected natural gas deliveries to Bulgaria, 2009-2020 (bcm)
Figure 6.3.1. Primary energy consumption by type of source in Croatia in 2008
Figure 6.3.2. Natural gas consumption in Croatia in 2000-2009 (bcm)
Figure 6.3.3. Natural gas consumption in Croatia by consumer segment
Figure 6.3.4. Natural gas suppliers to Croatia, 2008
Figure 6.3.5. Current participants in the Adria LNG project
Figure 6.3.6. Scenarios for projected natural gas deliveries to Croatia, 2009-2020 (bcm)
Figure 6.4.1. Primary energy consumption by type of source in Greece in 2008
Figure 6.4.2. Natural gas consumption in Greece in 2000-2009 (bcm)
Figure 6.4.3. Natural gas consumption in Greece by consumer segment
Figure 6.4.4. Natural gas supplies to Greece, 2008
Figure 6.4.5. Scenarios for projected natural gas deliveries to Greece, 2009-2020 (bcm)
Figure 6.5.1. Primary energy consumption by type of source in Hungary in 2008
Figure 6.5.2. Natural gas consumption in Hungary in 2000-2009 (bcm)
Figure 6.5.3. Natural gas consumption in Hungary by consumer segment
Figure 6.5.4. Natural gas suppliers to Hungary, 2008
Figure 6.5.5. Ownership structure of Panrusgaz
Figure 6.5.6. Scenarios for projected natural gas deliveries to Hungary, 2009-2020 (bcm)
Figure 6.6.1. Primary energy consumption by type of source in Macedonia in 2008
Figure 6.6.2. Natural gas consumption in Macedonia in 2000-2009 (mcm)
Figure 6.6.3. Natural gas consumption in Macedonia by consumer segment
Figure 6.6.4. Scenarios for projected natural gas deliveries to Macedonia, 2009-2020 (bcm)
Figure 6.7.1. Primary energy consumption by type of sources in Romania in 2008
Figure 6.7.2. Natural gas consumption in Romania in 2000-2009 (bcm)
Figure 6.7.3. Natural gas consumption in Romania by consumer segment
Figure 6.7.4. Russian natural gas transit via Romania (bcm)
Figure 6.7.5. Structure of assets representing Gazprom on the Romanian market
Figure 6.7.6. Scenarios for projected natural gas deliveries to Romania, 2009-2020 (bcm)
Figure 6.8.1. Primary energy consumption by type of source in Serbia in 2008
Figure 6.8.2. Natural gas consumption in Serbia in 2000-2009 (bcm)
Figure 6.8.3. Natural gas consumption in Serbia by consumer segment
Figure 6.8.4. Ownership structure of Yugorosgaz, 2008
Figure 6.8.5. Scenarios for projected natural gas deliveries to Serbia, 2009-2020 (bcm)
Figure 6.9.1. Primary energy consumption by type of source in Slovenia in 2008
Figure 6.9.2. Natural gas consumption in Slovenia in 2000-2009 (bcm)
Figure 6.9.3. Natural gas consumption in Slovenia by consumer segment
Figure 6.9.4. Gas imports to Slovenia in 2008
Figure 6.9.5. Ownership structure of Tagdem
Figure 6.9.6. Scenarios for projected natural gas deliveries to Slovenia, 2009-2020 (bcm)
Figure 6.10.1. Primary energy consumption by type of source in Turkey in 2008
Figure 6.10.2. Natural gas consumption in Turkey in 2000-2009 (bcm)
Figure 6.10.3. Natural gas consumption in Turkey by consumer segment
Figure 6.10.4. Maximum volumes under long-term contracts for the supply of Russian natural gas to Turkey, as of early 2010 (bcm)
Figure 6.10.5. Natural gas suppliers to Turkey, 2008
Figure 6.10.6. Ownership structure of Turusgaz
Figure 6.10.7. Ownership structure of Bosphorus Gaz
Figure 6.10.8. Scenarios for projected natural gas deliveries to Turkey, 2009-2020 (bcm)
Figure 7.1.1. Primary energy consumption by type of source in Armenia
Figure 7.1.2. Natural gas consumption in Armenia in 2000-2009 (bcm)
Figure 7.1.3. Natural gas consumption in Armenia by consumer segment
Figure 7.1.4. Ownership structure of ArmRosgazprom
Figure 7.1.5. Scenarios for projected natural gas deliveries to Armenia, 2009-2020 (bcm)
Figure 7.2.1. Primary energy consumption by type of source in Belarus
Figure 7.2.2. Natural gas consumption in Belarus in 2000-2009 (bcm)
Figure 7.2.3. Natural gas consumption in Belarus by consumer segment
Figure 7.2.4. Prices for Russian natural gas in Belarus (US$/'000 cubic meters)
Figure 7.2.5. Russian natural gas transit via Belarus (bcm)
Figure 7.2.6. Ownership structure of Beltransgaz
Figure 7.2.7. Scenarios for projected natural gas deliveries to Belarus, 2009-2020 (bcm)
Figure 7.3.1. Primary energy consumption by type of source in Estonia
Figure 7.3.2. Natural gas consumption in Estonia in 2000-2009 (bcm)
Figure 7.3.3. Natural gas consumption in Estonia by consumer segment
Figure 7.3.4. Ownership structure of Eesti Gaas
Figure 7.3.5. Scenarios for projected natural gas deliveries to Estonia, 2009-2020 (bcm)
Figure 7.4.1. Primary energy consumption by type of source in Georgia
Figure 7.4.2. Natural gas consumption in Georgia in 2001-2008 (bcm)
Figure 7.4.3. Natural gas consumption in Georgia by consumer segment
Figure 7.4.4. Prices for Russian and Azerbaijani gas in Georgia (US$/'000 cubic meters)
Figure 7.4.5. Natural gas transit via Georgia in 2007-2009 (bcm)
Figure 7.4.6. Scenarios for projected natural gas deliveries to Georgia, 2009-2020 (bcm)
Figure 7.5.1. Primary energy consumption by type of source in Latvia
Figure 7.5.2. Natural gas consumption in Latvia in 2000-2009 (bcm)
Figure 7.5.3. Natural gas consumption in Latvia by consumer segment
Figure 7.5.4. Ownership structure of Latvijas Gaze
Figure 7.5.5. Ten largest underground gas storage facilities in Europe (mcm)
Figure 7.5.6. Natural gas supplies from the Inchukalns UGS by country in 2008
Figure 7.5.7 Scenarios for projected natural gas deliveries to Latvia, 2009-2020 (bcm)
Figure 7.6.1. Primary energy consumption by type of source in Lithuania
Figure 7.6.2. Natural gas consumption in Lithuania in 2000-2009 (bcm)
Figure 7.6.3. Natural gas consumption in Lithuania by consumer segment
Figure 7.6.4. Natural gas import into Lithuania by final company-recipient in 2008
Figure 7.6.5. Russian natural gas transit via Lithuania to Kaliningrad Region of Russia in 2000-2009 (bcm)
Figure 7.6.6. Ownership structure of Lietuvos Dujos
Figure 7.6.7. Scenarios for projected natural gas deliveries to Lithuania, 2009-2020 (bcm)
Figure 7.7.1. Primary energy consumption by type of source in Moldova
Figure 7.7.2. Natural gas ñonsumption in Moldova in 2000-2009 (bcm)
Figure 7.7.3. Natural gas consumption in Moldova by consumer segment
Figure 7.7.4. Prices for Russian natural gas for Moldova (US$/'000 cubic meters)
Figure 7.7.5. Russian natural gas transit via Moldova in 2007-2009 (bcm)
Figure 7.7.6. Ownership structure of Moldovagaz
Figure 7.7.7. Factoring-Finance Management structure
Figure 7.7.8. Scenarios for projected natural gas deliveries to Moldova, 2009-2020 (bcm)
Figure 7.8.1. Primary energy consumption by type of source in Ukraine in 2008
Figure 7.8.2. Natural gas consumption in Ukraine in 2000-2009 (bcm)
Figure 7.8.3. Natural gas consumption in Moldova by consumer segment
Figure 7.8.4. Gazprom's gas deliveries and gas prices in 2009 by quarter
Figure 7.8.5. Russian natural gas transit via Ukraine in 2000-2009 (bcm)
Figure 7.8.6. Scenarios for projected natural gas deliveries to Ukraine, 2009-2020 (bcm)
Figure 8.1. Natural gas supplies to traditional markets and demand for Russian natural gas in traditional markets in 2010, 2015 and 2020 in the White scenario (bcm)
Figure 8.2. Natural gas supplies to traditional markets according to White scenario in 2010-2020 (bcm)
Figure 8.3. Natural gas supplies to traditional markets and demand for Russian natural gas in traditional markets in 2010, 2015 and 2020 in Blue scenario (bcm)
Figure 8.4. Natural gas supplies to traditional markets according to Blue scenario in 2010-2020 (bcm)
Figure 8.5. Natural gas supplies to traditional markets and demand for Russian natural gas in traditional markets in 2010, 2015 and 2020 in Red scenario (bcm)
Figure 8.6. Natural gas supplies to traditional markets according to Red scenario in 2010-2020 (bcm)
Òable 2.1. SWOT Analysis of Blue Stream 2 for Gazprom
Table 2.2. Structure of project contractors
Table 2.3. SWOT Analysis of Nord Stream for Gazprom
Table 2.4. Shares of Gazprom and its partners in project companies established to implement South Stream
Table 2.5. SWOT Analysis of South Stream for Gazprom
Table 3.2.1. Supplies of Russian gas and domestic gas consumption in France, 2000-2009
Table 3.3.1. Supplies of Russian gas and domestic gas consumption in Germany, 2000-2009
Table 3.4.1. Supplies of Russian gas and domestic gas consumption in Italy, 2000-2009
Table 3.5.1. Russian gas supplies and domestic gas consumption in the Netherlands, 2001-2009
Table 3.6.1. Supplies of Russian gas and domestic gas consumption in Switzerland, 2001-2009
Table 3.6.2.Gazprom's main affiliates and joint ventures, registered in Switzerland
Table 3.7.1. Gas supplies to UK by Gazprom Export and Gazprom Group as compared to the country's needs, 2004-2009
Table 5.1.1. Supplies of Russian gas and domestic gas consumption in Austria, 2000-2009
Table 5.2.1. Supplies of Russian gas and domestic gas consumption in Czech Republic, 2000-2009
Table 5.3.1. Supplies of Russian gas and domestic gas consumption in Poland, 2000-2009
Table 5.4.1. Supplies of Russian gas and domestic gas consumption in Slovakia, 2000-2009
Table 6.2.1. Supplies of Russian gas and domestic gas consumption in Bulgaria, 2000-2009
Table 6.3.1. Supplies of Russian gas and domestic gas consumption in Croatia, 2000-2009
Table 6.4.1. Supplies of Russian gas and domestic gas consumption in Greece, 2000-2009
Table 6.5.1. Supplies of Russian gas and domestic gas consumption in Hungary, 2000-2009
Table 6.7.1. Supplies of Russian gas and domestic gas consumption in Romania, 2000-2009
Table 6.8.1. Supplies of Russian gas and domestic gas consumption in Serbia, 2000-2009
Table 6.9.1. Supplies of Russian gas and domestic gas consumption in Slovenia, 2000-2009
Table 6.10.1. Supplies of Russian gas and domestic gas consumption in Turkey, 2000-2009
Table 7.3.1. Supplies of Russian gas and domestic gas consumption in Estonia, 2000-2009
Table 7.4.1. Supplies of Russian gas and domestic gas consumption in Georgia, 2000-2009
Table 7.5.1. Supplies of Russian gas to Latvia, 2000-2009
Table 7.6.1. Supplies of Russian gas and domestic gas consumption in Lithuania, 2000-2009
Table 7.8.1. Supplies of Russian gas and domestic gas consumption in Ukraine, 2000-2009
Map 2.1. Main fields of Gazprom in the Nadym-Pur-Taz region and the Yamal Peninsula
Map 2.2. The Unified Gas Supply System
Map 2.3. Blue Stream gas pipeline
Map 2.4. Nord Stream gas pipeline route
Map 2.5. South Stream gas pipeline route
Map 3.1. Belgium's gas transportation system
Map 3.2. France's gas transportation system
Map 3.2.2. Megal gas pipeline, through which supplies to France will be undertaken
Map 3.3.1. Germany's gas transportation system
Map 3.3.2. Wingas gas transportation system in Germany
Map 3.4.1. Italy's gas transportation system
Map 3.5.1. The Netherlands' gas transportation system
Map 3.6.1. Switzerland's gas transportation system
Map 3.7.1. United Kingdom's gas transportation system
Map 4.1.1. Gas transportation system of Denmark
Map 4.2.1. Finland's gas transportation system
Map 5.1.1. Austria's gas transit system
Map 5.2.1. Czech Republic's gas transportation system
Map 5.3.1. Poland's gas transportation system
Map 5.4.1. Slovakia's gas transit system
Map 6.1.1. Bosnia and Herzegovina's gas transportation system
Map 6.2.1. Bulgaria's gas transportation system
Map 6.3.1. Croatia's gas transportation system
Map 6.4.1. Greece's gas transportation system
Map 6.5.1. Gas transportation system of Hungary
Map 6.6. Macedonia's gas transportation system
Map 6.7. The transit section of Romania's gas transmission system
Map 6.8.1. Serbia's gas transportation system
Map 6.9.1. Slovenia's gas transportation system
Map 6.10.1. Turkey's gas transportation system
Map 7.1.1. Armenia's gas transportation system
Map 7.2.1. Belarus' gas transportation system
Map 7.3.1. Estonia's gas transportation system
Map 7.4.1. Georgia's oil and gas transportation system
Map 7.5.1. Latvia's gas transportation system
Map 7.6. Lithuania's gas transportation system
Map 7.7. Moldova's gas transportation system
Map 7.8.1. Ukraine's gas transportation system