Over the past 20 years, RPI has carried out hundreds of studies on all major segments of the oil and gas industry of Russia, CIS and Eastern Europe.

RPI specialists are permanently in close connect with the industry and monitor its developments closely to provide best-in-class analytics and information support for industry players.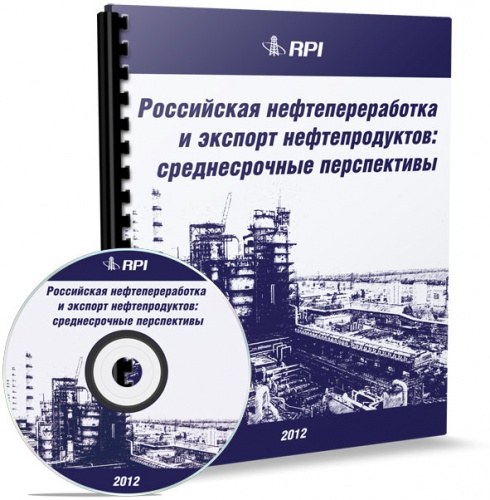 Special offer - 2125 EUR
1 EUR = 50 RUB
Special price in rubles - 106 250 RUB
(Standard price - 125 000 RUB)
The English version of the report is available in 2-3 weeks after ordering
The
goal
of this study is to systematize statistical data about various aspects of oil refining in Russia and sale of oil and petroleum products. However, this study is not a mere collection of statistics as it contains projections and assumptions of the industry's development in the future.
For more than ten years now
RPI
has been closely following the refining market and development of oil refineries and the study is based on the experience accumulated in research of oil refining in Russia.
The
study
contains information about the dynamics of changes in oil refining scopes, refining structure, the production and technological parameters of Russian refineries, dynamics and structure of domestic consumption and main export avenue structure.
The
study
particularly focuses on taxation issues in the industry, the impact of the 60-66 taxation regime, and the retail sales status under a growing taxation burden.

The key sections of the report deal with:
The current and future macroeconomic factors defining the development of oil refining in Russia: GDP, domestic petroleum product consumption, oil production and exports;
The current status of oil refining in Russia: oil refining scope dynamics, structure and dynamics of primary oil refining, production and technological parameters of Russian refineries, taxation and government regulation of the industry;
Export of petroleum products from Russia: main trends and factors defining the petroleum product export situation, main avenues, dynamics and structure of exports;
Prospects and projections of oil refining: oil production projections, changes in production capacities, changes in the basket of petroleum products in Russia;
Projections of exports of main petroleum products from Russia: main factors that would define domestic consumption dynamics in the mid-term, export scope and distribution by export avenue, proposed changes in the throughput of pipeline and rail systems and the port infrastructure.

The
product
will be a handy tool for strategic decision-making by companies in the refining, transportation and sales sectors.
The
projections and assumptions
about oil refining and sales and exports of petroleum products contained in the study are based on detailed analysis of information obtained from reliable sources which makes it possible to forecast development prospects, opportunities, as well as outline risks for the industry as whole and individual players in particular.
Introduction

Chapter 1: Macroeconomic Development of the Russian Federation Related to the Oil Refining Industry: Present and Future

1.1 GDP
1.2 Domestic Consumption Index
1.3 Oil Production and Exports

Chapter 2: Oil Refining Industry in the Russian Federation (from 2001 through 2012)

2.2 Changes in Oil Refining Output
2.3 Oil Refining Industry and Changes in its Structure
2.4 Major Oil Refineries as of late 2012
2.5 Oil Refining in the Russian Federation by Product Type
2.6 Taxation and government regulation of industry

Chapter 3: Domestic Consumption of Major Oil Products from 2001 through 2012

Chapter 4: Exports of Major Oil Products from the Russian Federation from 2001 through 2012

4.4 Current Export Trends for Major Oil Products
4.5 Export Dynamics
4.6 Major Export Directions and Export Dynamics
4.7 Pipeline Exports of Products and their Dynamics. Exports by Railway and Other Transport

Chapter 5: Prospects and Estimated Development of the Oil Refining Industry through 2022

5.1 Estimated Oil Production in the Russian Federation
5.2 Estimated Changes in the Share of Oil Products in Total Refining Output

Chapter 6: Estimated Exports of Oil Products from the Russian Federation

6.1 Estimated Changes in Domestic Consumption of Major Oil Products in the Russian Federation
6.2 Basic Trends Defining Export Dynamics of Major Oil Products from the Russian Federation
6.3 Estimated Changes in Major Oil Products Exported from the Russian Federation
6.4 Changes in Major Export Directions of Oil Products from the Russian Federation according to Changes in the Export Amount
6.5 Estimated Changes in the Capacity of the Export Pipeline System
6.6 Estimated Changes in the Capacity of Other Export Ways of Major Oil Products Schedules