Over the past 20 years, RPI has carried out hundreds of studies on all major segments of the oil and gas industry of Russia, CIS and Eastern Europe.

RPI specialists are permanently in close connect with the industry and monitor its developments closely to provide best-in-class analytics and information support for industry players.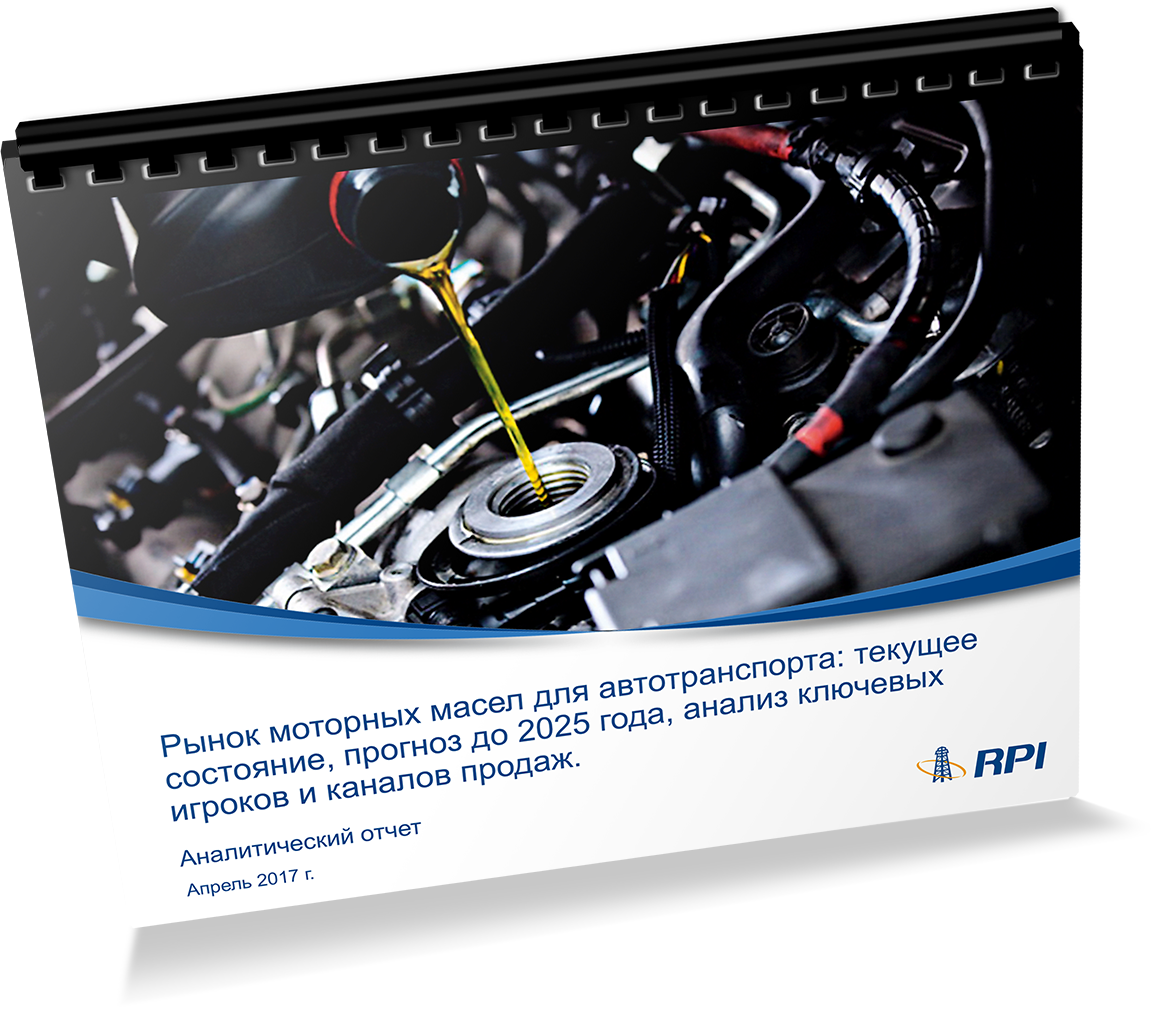 In 2016, the Russian lubricants market shrank further by 1.8 percent as output totaled 1.58 million tons, wheareas a year earlier it had dropped by 4.7 percent. RPI forecasts that the market will continue to shrink at a slower rate. At a later stage, it is expected to rebound demonstrating a 6.2-percent growth by 2020 as total output tops 1.67 million tons. 
Russia's automotive engine oil market is characterized by similar trends. For example, the private passenger vehicles segment declined in 2016 by 2 percent, however, RPI forecasts that in 2017 this trend will be reversed and the segment will slightly grow. By 2025, its growth will have reached 10 percent with total consumption exceeding 340,000 tons a year. 
Meanwhile, the competitive environment has changed significantly over the last two years. In 2014-2016, a large number of foreign engine oil producers with no production plants in Russia lost substantial chunks of their market shares in passenger cars and commercial vehicle segments, mostly due to a steep devaluation of the ruble. 
One of the key trends in the automotive engine oil market is the redistribution of consumption via different sales channels. For example, the share of service stations grew from 27 percent in 2014 to 31 percent in 2016 and is expected to surpass the 40-percent mark by 2025, with the independent service stations sector growing at the fastest rate while the share of "garage" servicing work is going to shrink. 
The above-mentioned aspects as well as other market trends and specifics require scrutiny and must be taken into account by both oil producers and distributors when making operational and strategic decisions. 
Compared to the previous editions, "Motor Oil Market: Current State, Outlook Until 2025, Analysis of Key Players and Sales Channels" report is a completely new product, which offers updated information and in-depth analysis. 
Key changes in the report:
✓ An introductory section, which contains general review of the lubricants markets in Russia and the Customs Union countries, including supply vs. demand snapshot, production and consumption forecasts, import and export operations, companies' market shares 
✓ Analysis of the companies' market shares in the automotive engine oil market
✓ Detailed competitor benchmarking including sales volumes, sales systems specifics, analysis of strengths and weaknesses, growth potential in the Russian market 
✓ Analysis of sales channels' specific features, long-term forecast of redistribution of market shares held by different sales channels, consumer profile creation 
✓ The report is released as a detailed presentation in PDF format and an attachment in the form of an Excel spreadsheet with key research findings and figures, thus combining a modern data presentation format with an opportunity to further analyze the data 
Research methodology and sources of information:
✓ Data collection and analysis of industry statistics (Central Dispatching Department of Fuel and Energy complex, SPARK, Federal Customs database, etc.)
✓ Analysis of Russia's car fleet with breakdown by brand, model, and utilization rate
✓ Collection and systemized presentation of technical requirements with breakdown by oil type for different car brands and models 
✓ Engine oil consumer surveys including those conducted at forums and industry-related websites
✓ Analysis of Russia's production of cars and internal combustion engines
✓ Collecting data on the largest companies operating in the Russian market, legended interviews 
✓ Interviews with representatives of the largest retail chains and service stations
✓ Interviews with industry experts
Detailed elaboration and high accuracy of collected market data qualify it for use in preparing and making operational, strategic, and investment decisions.
"Motor Oil Market: Current State, Outlook Until 2025, Analysis of Key Players and Sales Channels" report is intended for the following industry groups and communities: 
• Russian lubricants producers
• Foreign lubricants producers 
• Blending companies
• Additives producers
• Distributors and dealers
• Manufacturers of lubricant production equipment 
• Banks and investment companies
• Consulting firms
About RPI
For over 20 years RPI has been conducting research and consulting projects for petroleum production, refining and retail sales of oil products in Russia and CIS. For more than 10 years RPI has been hosting a major event in the lubricants industry in Russia and CIS, "Moscow International Lubricants Week." Our copious industry experience, our tremendous analytical database, and the access to leading industry experts and company representatives help RPI create an unbiased, realistic portrayal of the market and a highly precise forecasting model. 
1) Key findings of the study 
2) Motor oil market in the Russian Federation and the Customs Union (CU) member states 
3) Current state and key trends regarding Russia's car fleet
- Passenger car fleet (CF) 
- Light commercial vehicle fleet (LCV) 
- Heavy commercial vehicle fleet (HCV) 
- Bus fleet 
- Car fleet dynamics and outlook for Russia's largest federal districts 
- Appendix 
4) Consumption of motor oils as per type of car fleet and region 
5) Consumption of factory fill motor oils 
6) Consumption of motor oils as per most popular viscosity grades 
7) Analysis of key players in the motor oil market 
8) Analysis of motor oil sales channels