Over the past 20 years, RPI has carried out hundreds of studies on all major segments of the oil and gas industry of Russia, CIS and Eastern Europe.

RPI specialists are permanently in close connect with the industry and monitor its developments closely to provide best-in-class analytics and information support for industry players.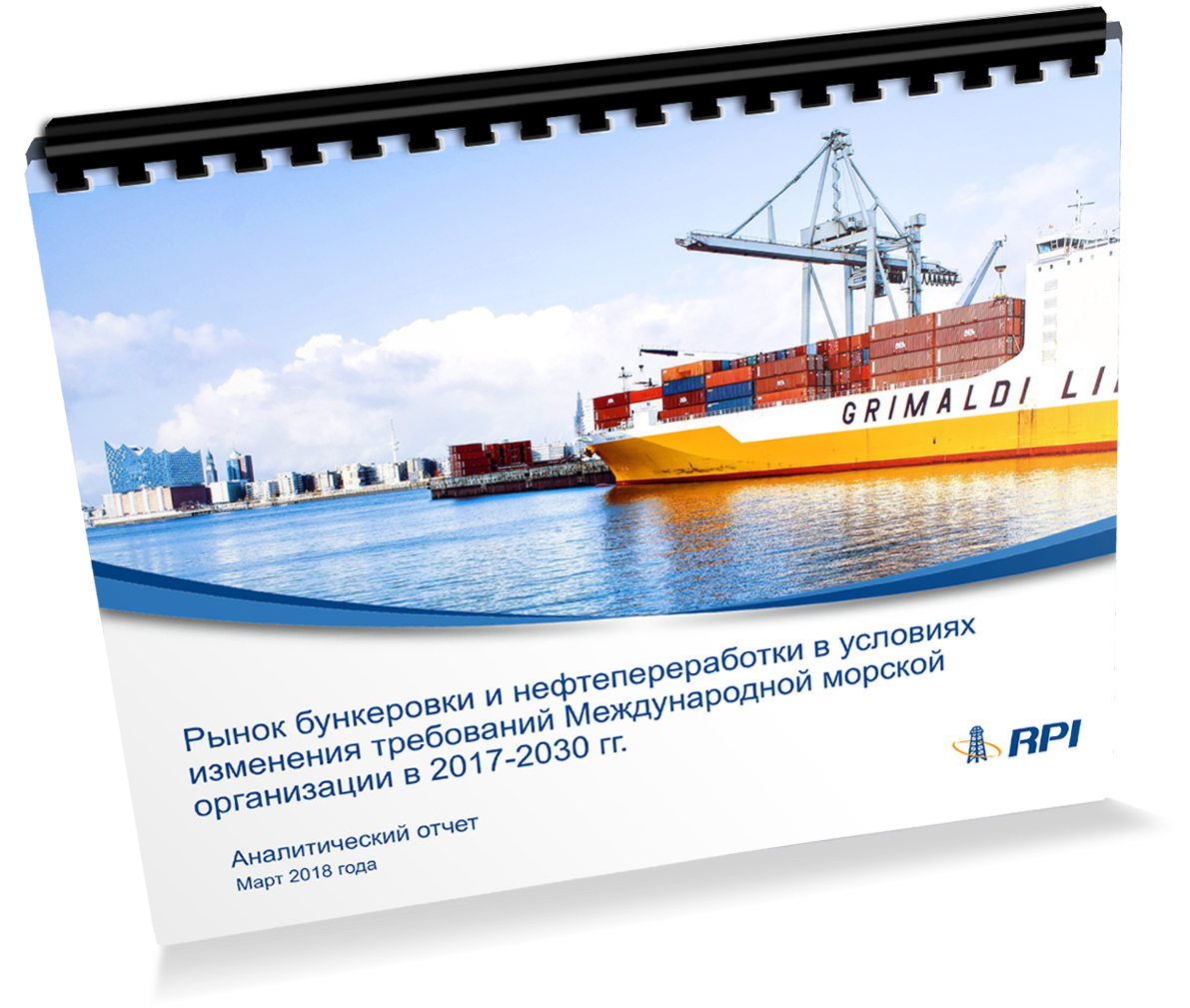 The English version of the report is available in 2-3 weeks after ordering
In October 2016, the International Maritime Organization (IMO) decided to reduce the global limit for sulfur content of ships' fuel oil from the current 3.50% m/m to 0.50% m/m. The new limit will go into effect in 2020. In 2016, less than a quarter of bunker fuel stored on ships complied with the future limit, urging ship-owning companies to follow one of the following scenarios:
1. Install scrubbers on operating vessels. This will allow shipowners to continue to use fuel oil with high levels of sulfur as fuel, and fuel economy would help recoup the costs of scrubbers' purchase over two to four years of day-to-day use on large ships (over 25,000 tons displacement tonnage and no older than 10 years). Due to high demand, it is expected that the retooling of the entire fleet of large vessels would take between five and 10 years
2. The switch to LNG is the most environmentally-friendly among the proposed options, potentially entitling ship-owning companies to certain benefits. However, the majority of seaports lack infrastructure for LNG storage and fueling, significantly limiting the possibility of this scenario's implementation
3. The switch to more expensive fuel oil with a lower sulfur content would help avoid making pricey investments in retooling the ships, but it would also entail the substantial growth of chartering costs. Recurrent ship demurrage periods are possible and the logistics would become more complicated due to problems with fuel delivery into ports
Tougher IMO regulations are going to have a major impact on oil refining, maritime shipping and a number of related sectors:
• During the 2020-2024 span, the market is likely to experience shortage of scrubbers, forcing a massive switch from fuel oil to low-sulfur mixes on the basis of diesel fuel
• The drop in fuel oil demand will total approximately about 10-20 percent of the entire fuel oil market, which is going to impact the prices and lead to re-orienting oil refining
• The price differential between low- and high-sulfur oils is going to grow, including the Brent-Urals spread
• Lower fuel oil prices will force a number of countries to introduce protective measures in order to prevent companies from starting to use less environmentally-friendly fuels
• Oil refineries' utilization rates are going to grow, as will rates of return at plants with low fuel oil output rates, while rates of return at plants with high fuel oil output rates will fall. The most vulnerable will be the refining in those countries where fuel oil output exceeds 20 percent 
• The efficiency of hydrocleaning facilities construction projects, which will be put in operation by 2020, will significantly grow
• The switch to more expensive fuel is likely to trigger the growth of chartering costs, which is going to have an impact on end consumers
• Reduced effects from introducing IMO regulations are possible if norms are softened for the shipowners who ordered scrubbers, but are waiting on their delivery due to shortage of supply. Besides this, IMO hasn't made the final decision on the actual reach of Emission Control Areas (ECAs)
"Bunkering and oil refining markets in the International Maritime Organization's changing regulatory environment in 2017–2030" analytical report aims to provide expert support for making strategic and operative decisions to a wide circle of market players, based on the following key elements of research: 
- Evaluation of key factors and development trends, including both general trends in Russia's maritime shipping and oil and gas industries, and specific trends in the oil refining and oil product supply markets
- Forecast of the global market size until 2030, including several scenarios, which depend on how tough IMO regulations are going to get
The report contains the basis for evaluation of the entire scope of services related to oil production, oil refining, oil product supply, LPG equipment, port infrastructure construction and vessel equipment.
The pool of sources used in compiling the report include: industry statistics, RPI's knowledge base, company data (marketing materials, companies' annual reports, news sources, trade press articles and subject-related periodicals), fuel prices data, interviews with company representatives, polls of representatives of maritime shipping companies, industry experts' assessments.
"Bunkering and oil refining markets in the International Maritime Organization's changing regulatory environment in 2017–2030" analytical report targets the following audience groups in various industries:
• Oil and gas companies
• Port terminals and bunkering companies
• Trading companies
• Oil and gas equipment manufacturers and suppliers
• Vessel equipment manufacturers
• Banks and investment companies
• Consulting companies
1. INTRODUCTION 
2. Maritime shipping market
2.1 History of International Maritime Organization
2.2 IMO's current requirements, geographic reach
2.3 Size of maritime shipping market
2.4 Introduction of new IMO regulations
3. Impact of new IMO regulations on international bunkering and oil refining markets 
3.1 Options for replacement of high-sulfur fuel oil for vessels
3.2 Assessment of impact on global oil refining
3.3 Change of oil and oil products pricing environment
3.4 Largest international hydrocleaning facilities construction projects until 2030
3.5 Evaluation of impact on global bunkering market: benchmarking of future attractiveness of regions and specific ports
4. Impact of new IMO regulations on Russia's bunkering and oil refining markets
4.1 Analysis of impact on Russia's oil refining industry with biggest companies' breakdown
4.2 Analysis of impact of IMO's changed regulations on specific projects to upgrade oil refineries in Russia
4.3 Analysis of impact on Russia's bunkering market
5. Scrubbers market
5.1 World's largest scrubber manufacturers
5.2 List of companies installing scrubbers in Russia