Over the past 20 years, RPI has carried out hundreds of studies on all major segments of the oil and gas industry of Russia, CIS and Eastern Europe.

RPI specialists are permanently in close connect with the industry and monitor its developments closely to provide best-in-class analytics and information support for industry players.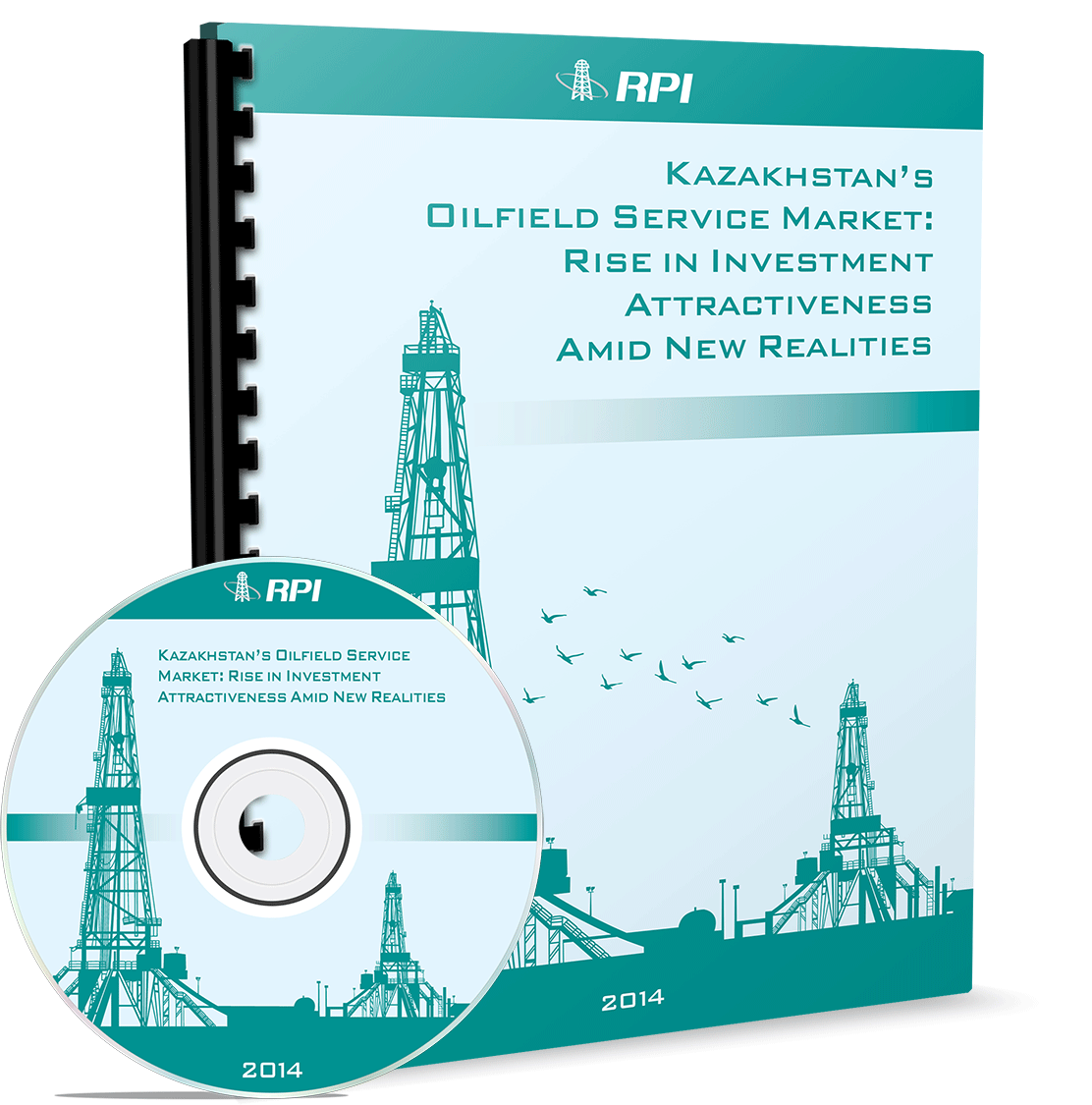 1 EUR = 50 RUB
Price in rubles - 97 500 RUB
Despite the geopolitical tensions
 and Western sanctions against Russia, Kazakhstan continues to demonstrate fast economic growth, remains open to foreign capital and refrains from any involvement in the Ukraine conflict. This helps the country to maintain its investment attractiveness and be most interesting to foreign players in many segments, including oilfield services. RPI decided to take a fresh look at the prospects for Kazakhstan's oilfield service market, drawing on the knowledge and experience gathered over 20-plus years of studying this country's petroleum sector.
The study aims to present a detailed analysis of the oilfield service market of the Republic of Kazakhstan, including a summary of producers' key performance data: production, drilling, workovers, application of enhanced oil recovery techniques, etc. We separately reviewed the drilling segments, including sidetracking, well servicing and workover, hydraulic fracturing, coil tubing and well cementing operations. A forecast of production and drilling activities from 2014 to 2025 is provided. 
The study provides detailed information on major oilfield service companies working in Kazakhstan and their business dynamics. It also reviews the country's investment climate and potential risks and discusses opportunities for new companies' entry into the Kazakh market. 
The principal sections of the report provide the following information: 
• Key indicators of the Kazakhstan's upstream industry: scope of drilling and rates of production, well servicing and workover activities.
• Review of key customers. This section addresses new promising projects and reviews customer demand for drilling, workover and EOR services. 
• Key contractor profiles: operational regions, services and productinve capacities of major oielfield service providers.
• Forecast of production and drilling activities for 2014-2025. The section assesses the prospects of the major production projects and producers' drilling targets.
• Comments on the prospects for oilfield service providers' activities in the Kazakh market. The section describes the most attractive market segments in terms of business growth, analyzes the most significant risks and provides recommendations regarding potential regional presence for an entrant company. 
This product could be an important strategic decision-making tool for oilfield service providers and manufacturers of oilfield service equipment. It will enable the companies to assess the prospects for potential involvement in major upstream projects in Kazakhstan, weigh the risks and identify ways to mitigate them. The information contained in the report could also help oilfield market players to take an objective look at their potential, identify a long-term strategy and formulate targets for performance improvement. 
Key conclusions  
1 OPERATING HIGHLIGHTS 
1.1 Oil production  
1.2 Gas production  
2 KAZAKHSTAN'S OIL FIELD SERVICES MARKET 
2.1 Drilling industry 
2.1.1 Exploration Drilling  
2.1.2 Production drilling  
2.1.3 Well depth  
2.1.4 Drilling contractors  
2.1.5 Well workover market  
2.1.6 Well servicing market  
2.2 Well cementing and production stimulation market 
2.2.1 Fracturing  
2.2.2 Coil tubing operations  
2.2.3 Cementing operations  
2.2.4 Sidetracking 
2.2.5 Hydrochloric acid bottom hole zone treatment  
2.2.6 Optimization of mechanized well stock operation conditions  
2.2.7 Well shifting  
2.2.8 Commissioning of idle wells  
2.3 Well testing 
2.4 Market breakdown by region in Kazakhstan 
2.4.1 Mangystau Region  
2.4.2 Kyzylorda region  
2.4.3 Atyrau Region  
2.4.4 Aktobe Region  
2.4.5 West Kazakhstan Region  
2.5 Kazakhstan's oil and gas companies  
2.6 Contractors 
2.6.1 Halliburton  
2.6.2 Weatherford  
2.6.3 Expro  
2.6.4 Neftserviceholding  
2.6.5 XiBu  
2.6.6 Schlumberger  
2.7 Forecasted oil and gas production 
2.7.1 Oil and condensate  
2.7.2 Gas  
2.8 Drilling forecast 
Graph 1. Kazakhstan's oil field services market forecast, 2014-2015, millions of dollars 
Graph 2. Forecasted contribution to Kazakhstan's oil field services market growth by sector, 2014-2015, % 
Graph 1-1. Oil and gas condensate production in Kazakhstan, 2009-2014, millions of tons 
Graph 1-2. Oil and gas condensate production in Kazakhstan by region, %
Graph 1-3. Main oil producers in Kazakhstan, 2011-2013, millions of tons 
Graph 1-4. Gas production in Kazakhstan, 2009-2014, billions of cubic meters per annum 
Graph 2-1. Actual and forecasted åõploration drilling in Kazakhstan, 2009-2014, thousands of meters drilled 
Graph 2-2. Kazakhstan's exploration drilling sector by contractor, 2009-2014, thousands of meters drilled 
Graph 2-3. Kazakhstan's exploration drilling sector by region, 2009-2014, thousands of meters drilled 
Graph 2-4. Kazakhstan's actual and forecasted production drilling sector, 2009-2014, thousands of meters drilled 
Graph 2-5. Kazakhstan's production drilling sector by company, 2009-2014, thousands of meters drilled 
Graph 2-6. Kazakhstan's production drilling sector by region, 2009-2014, thousands of meters drilled 
Graph 2-7. Average development well depth in Kazakhstan by region, 2009-2014, meters deep 
Graph 2-8. Average development well depth in Kazakhstan by operating company, 2009-2014, meters deep 
Graph 2-9. Kazakhstan's well workover market, 2009-2014, number of operations performed 
Graph 2-10. Kazakhstan's well workover market by region, 2012-2013, % 
Graph 2-11. Kazakstan's well workover market by region, 2009-2014, number of operations performed 
Graph 2-12. Kazakhstan's well servicing market, 2009-2014, number of operations performed 
Graph 2-13. Kazakhstan's well servicing market by region, in percentage terms, 2012-2013, % 
Graph 2-14. Kazakhstan's well servicing market by region, 2009-2014, number of operations performed 
Graph 2-15. Kazakhstan's well servicing market by contractor, 2009-2014, number of operations performed 
Graph 2-16. Actual and forecasted fracturing operations in Kazakhstan, number of well operations, 2012-2020 
Table 2-14. Coil tubing operations by contractor, 2012 
Graph 2-17. Actual and forecasted coil tubing market in Kazakhstan, number of well operations performed, 2012-2020 
Graph 2-18. Actual and forecasted well construction in Kazakhstan, 2013-2020, number of operations performed 
Graph 2-20. Number of bottom hole treatment operations performed in Kazakhstan, 2009-2014, number of operations performed 
Graph 2-21. Number of bottom hole stimulation operations in Kazakhstan by region, 2012-2013, % 
Graph 2-22. Number of bottom hole treatment operations performed in Kazakhstan by region, 2009-2014, number of operations performed 
Graph 2-23. Bottom hole treatment operations performed in Kazakhstan by company, 2012-2013, % 
Graph 2-24. Number of bottom hole stimulation operations performed in Kazakhstan by company, 2009-2014, number of operations performed 
Graph 2-25.Actual and forecasted number of hydrochloric treatment operations in Kazakhstan, thousands of operations, 2012-2020 
Graph 2-26.Number of operations performed on optimizing mechanized well stock conditions in Kazakhstan by region and company, 2009-2014 
Graph 2-27. Number of wells shifted to mechanized extraction in Kazakhstan by company, 2009-2014 
Graph 2-28. Number of idle wells commissioned in Kazakhstan by company, 2009-2014 
Graph 2-29. Number of exploration wells brought onstream in Kazakhstan, 2009-2014 
Graph 2-30. Number of completed exploration wells in Kazakhstan by region, 2013, % 
Graph 3-1. Forecasted oil production by region and on Kazakhstan's shelf, 2014-2025, millions of tons per annum 
Graph 3-2. Forecasted gas production in Kazakhstan, 2014-2025, billions of cubic meters per annum 
Graph 3-3. Actual and forecasted drilling market in Kazakhstan, 2012-2020, thousands of meters drilled 
Graph 3-4. Actual and forecasted number of new wells brought onstream in Kazakhstan, 20122025, number of wells 
Graph 3-5. Drilling exploration wells in Kazakhstan, number of wells, 2013-2025 
Table 1. Kazakhstan's oil field services market by sector, 2013 
Table 2. Profile of Kazakhstan's oil production and oil field services markets 
Table 1-1.Gas production in Kazakhstan by producer, 2012-2013,  billions of cubic meters per annum 
Table 2-1. Projects in progress on the Caspian sea shelf  in Kazakhstan as of December 2013 
Table 2-2. Kazakhstan's drilling market by company in 2013,  area drilled, thousands of meters, % 
Table 2-3. Kazakhstan's production drilling market by company in 2013,  area drilled, thousands of meters, % 
Table 2-4. . Kazakhstan's exploration drilling market by company in 2013,  area drilled, thousands of meters, % 
Table 2-5. Well workover operations performed in Kazakhstan by company (in-house service divisions and outside contractors), 2012-2013 
Table 2-6. Well servicing operations performed in Kazakhstan by company (in-house service divisions and outside contractors), 2012-2013
Table 2-7. Number of operations performed: well workover, fracturing, cementing, and well production testing, 2012-2013, number of operations performed 
Table 2-8. Size of market segments for well workover, fracturing, cementing, and well production testing, 2013, in millions of dollars 
Table 2-9. Market segments by region, number of well operations performed, 2013 
Table 2-10. Fracturing operations by company, 2012-2013, number of operations performed 
Table 2-11. Number of fracturing fleets by contractor in Kazakhstan
Table 2-12. SWOT analysis: Fracturing in Kazakhstan as of 2013 
Table 2-13. Coil tubing operations by company in Kazakhstan, 2012-2013, number of operations performed 
Table 2-15. SWOT analysis of the coil tubing market in Kazakhstan as of 2013 
Table 2-16. Number of cementing fleets in Kazakhstan, 2013
Table 2-17. Initial cementing operations in Kazakhstan by company, number of well operations performed, 2012-2013 
Table 2-18. SWOT analysis: Cementing market in Kazakhstan as of 2013 
Table 2-19. Sidetracking market in Kazakhstan by company, 2012-2013, number of operations performed 
Table 2-20. SWOT analysis: Sidetracking market in Kazakhstan as of 2013 
Table 2-21. SWOT analysis: Hydrochloric treatment market in Kazakhstan as of 2013
Table 2-22. Well servicing and workover market breakdown by company in the Mangystau region, 2013, number of wells 
Table 2-23. Oil services breakdown by company in the Mangystau region, 2013 
Table 2-24. SWOT analysis: Mangystau region 
Table 2-25. Actual and forecasted hydrocarbon production in the Kyzylorda region, 2007-2015 
Table 2-26. Well servicing and workover market breakdown in the Kyzylorda region by company, 2013%, number of wells 
Table 2-27. Oil field services market breakdown by company in the Kyzylorda region, 2013 
Table 2-28. SWOT analysis: Kyzylorda region 
Table 2-29. Well servicing and workover market breakdown by company in the Atyrau region, 2013, number of wells 
Table 2-30. Oil field services market breakdown by company in the Atyrau region, 2013
Table 2-31. SWOT analysis: Atyrau region 
Table 2-32. Well servicing and workover market breakdown by company in the Aktobe region, 2013, number of wells 
Table 2-33. Oil field services market breakdown by company in the Aktobe region, 2013, number of operations performed 
Table 2-34. SWOT analysis: Aktobe region 
Table 2-35. SWOT analysis: West Kazakhstan region 
Table 2-36. Kazakhstan's main oil and gas companies 
Table 2-38. Ontustik Munaygas's production capacities and key performance indicators 
Table 3-1. Most promising oil fields in Kazakhstan in terms of room for drilling growth, 2014-2025