Over the past 20 years, RPI has carried out hundreds of studies on all major segments of the oil and gas industry of Russia, CIS and Eastern Europe.

RPI specialists are permanently in close connect with the industry and monitor its developments closely to provide best-in-class analytics and information support for industry players.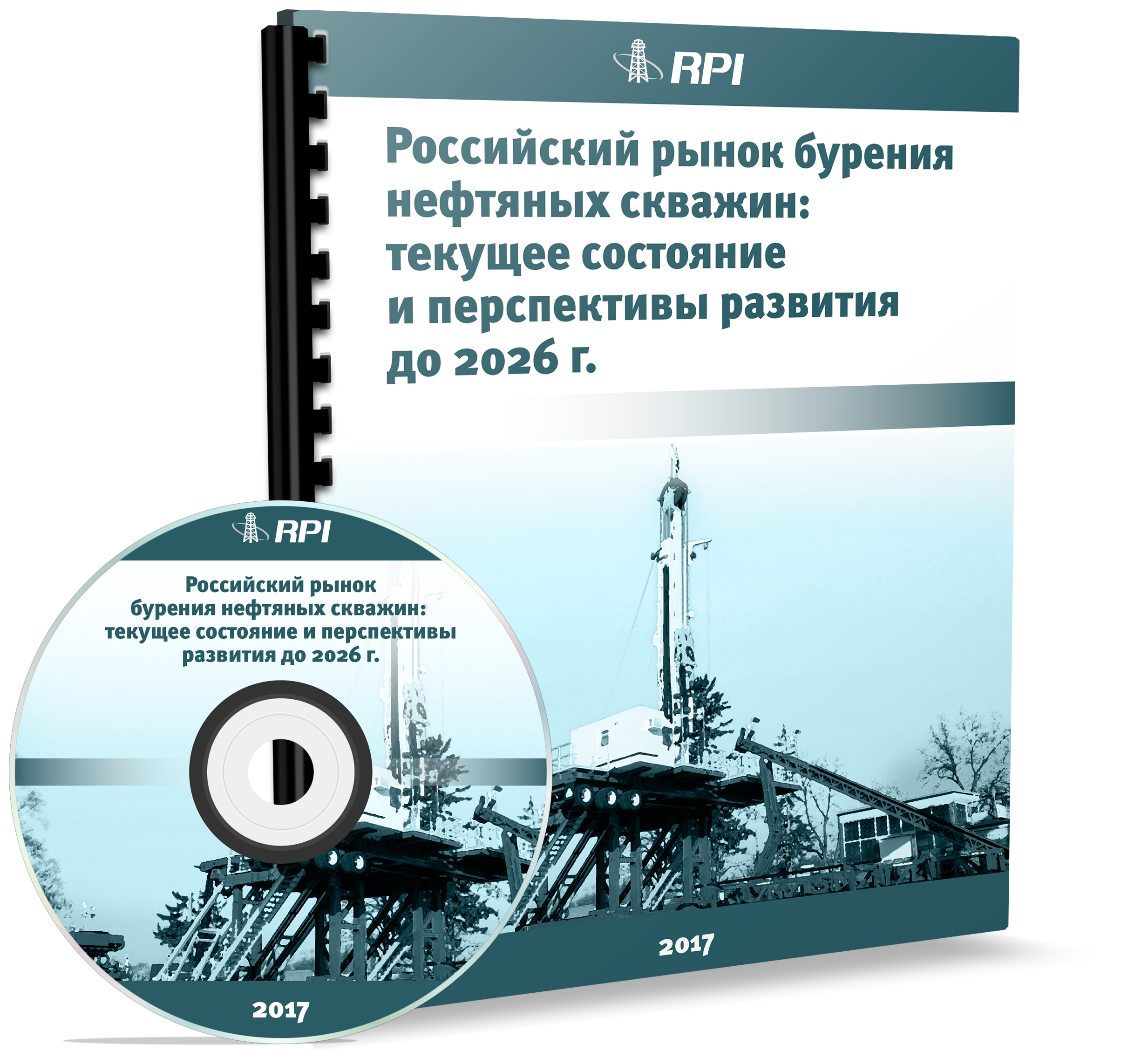 The English version of the report is available in 2-3 weeks after ordering
In 2016, the Russian drilling market witnessed the shaping of new trends that will have a significant impact on business opportunities and strategic planning.
• In 2016, Russia's oil production reached its all-time high totaling 547.5 million tons (10.95 million barrels per day). Compared to 2015, oil production grew by 3.8 percent, primarily driven by increase in drilling footage, which jumped by 23.2 percent year-on-year. 
• In accordance with the Dec. 10, 2016 agreement to curb oil output, Russia's oil production in 2017 is expected to drop by approximately 0.5 percent compared to 2016. This implies a serious adjustment for the drilling market, as footage under this scenario may drop by up to 20 percent year-on-year. In January-February, production drilling volumes have decreased by 17 percent relative to the three-year growth trend.
• In mid-term perspective, oil production in Russia is projected to grow moderately, reaching the level of 570 million tons in 2025. Drilling will mainly be oriented toward sustaining oil production levels. Starting 2018, the key trends on the drilling market will be moderate growth in physical volumes (the 2016 drilling footage level of 25.6 million meters is not going to be matched before 2021) and stronger growth in monetary terms. 
• In monetary terms, the market will be driven by horizontal drilling, the share of which in total drilling has grown from 11 percent in 2010 to 36 percent in 2016, and is projected to reach 44 percent by 2021. This trend presents substantial opportunities for suppliers of services, equipment and technology in the areas of directional drilling and completion.
The new research report Russian oil drilling market, produced by RPI, provides the most detailed analysis of this key market available off-the-shelf. The report aims at supporting industry players' strategic and day-to-day decision-making through the following key elements of the research: 
- Evaluation of key market development trends and factors, including both at the oil industry level, and specific to the drilling market and its key segments.
- Market size projections to 2026 for production drilling (separately for horizontal drilling) and exploration drilling. The projections are broken down by key oil production regions, taking into account factors specific to each region.
- Analysis of important customers and contractors, including drilling volumes and rig fleets. 
The report provides basis for further evaluation of a broad spectrum of drilling related segments, including directional drilling services and completion.
The sources used for producing the report are RPI's industry knowledge base, company data, statistics, and assessments by industry experts.
Russian Oil Drilling Market is the first in a series of reports on the main segments of Russian oilfield services market. The reports analyze the current state and outlook to 2026 for the following markets:
1. Directional drilling services (1250 Euro)
2. Sidetracking (1250 Euro)
3. Well workover (1250 Euro)
4. Hydraulic fracturing (1250 Euro)
5. Coiled tubing (1150 Euro)
1. INTRODUCTION 
2. EXECUTIVE SUMMARY 
3. OIL AND GAS CONDENSATE PRODUCTION IN RUSSIA IN 2005-2016 
3.1 Production by company
3.2 Production by main oil region
3.3 Projection for 2017 2025 
4. RUSSIAN OILFIELD SERVICES: MARKET SIZE AND SEGMENTATION
5. CURRENT STATE OF THE DRILLING MARKET
5.1 Historical drilling volumes, 2006-2016: production and exploration drilling 
5.2 Market size in monetary terms, 2006-2016
5.3 Key trends 
Developments in horizontal drilling
Drilling expenditures
Effects from production enhancement methods
5.4 Key technological factors
5.6 Key management challenges and trends
6. MARKET OUTLOOK FOR 2017-2026 
6.1 Methodology 
6.2 Production drilling volumes (footage)
6.3 Horizontal drilling volumes (footage)
6.4 Exploration drilling volumes (footage)
6.5. Market projection in monetary terms
7. MAIN CUSTOMERS 
8. DRILLING CONTRACTORS
8.1 Drilling contractors' market shares
8.2 Rig fleets 
8.3 Competition in key regions
8.4 M&A transactions in 2016 
9. PROFILES OF DRILLING CONTRACTORS
9.1 Independent drilling contractors
Burenie LLC (Tatburneft)
Catoil Drilling (Petro Welt Technologies)
Eurasia Drilling Company
Gazprom Burenie 
ERIELL 
Integra Burenie 
Investgeoservis Group
KCA Deutag 
Nabors Drilling 
NSKh Asia Drilling (Neftservisholding) 
Siberian Services Company (SSK)
9.2 DRILLING SUBSIDIARIES AND DIVISIONS OF OIL COMPANIES
Rosneft's drilling subsidiaries: RN Burenie, Targin Burenie 
Slavneft's drilling subsidiaries 
Surgutneftegaz's drilling division 
Ïåðå÷åíü òàáëèö
Òàáëèöà 3.1. Íîâûå ìåñòîðîæäåíèÿ, ó÷òåííûå ïðè ïîäãîòîâêå ïðîãíîçà äîáû÷è 
Òàáëèöà 9.1. Ñîñòàâ ïàðê áóðîâûõ óñòàíîâîê ERIELL íà òåððèòîðèè Ðîññèè ïî ñîñòîÿíèþ íà 2021 ã. 
Òàáëèöà 9.2. Ïàðê íàçåìíûõ áóðîâûõ óñòàíîâîê KCA DEUTAG â ÐÔ (2021 ãîä) 
Òàáëèöà 9.3. Ïàðê ìîðñêèõ áóðîâûõ ïëàòôîðì KCA DEUTAG â ÐÔ (2021 ãîä)